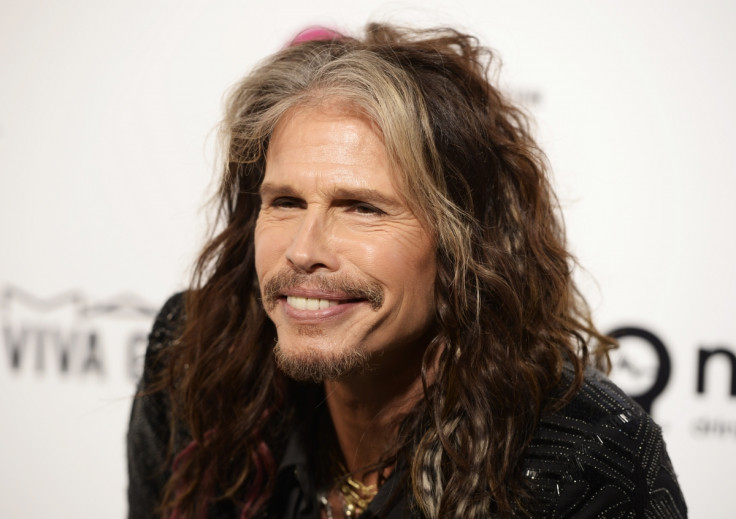 Steven Tyler is proving that age is no bar for romance if you are a world famous rock star. The Aerosmith frontman is rumoured to be dating his personal assistant Aimee Ann Preston who is 39 years younger than him. The couple attended Elton John's Oscars viewing party on 28 February and walked the red carpet together.
She started working for Tyler in 2014 and has accompanied him at various events. In the photo below, she even posed (far left) for a group picture along with John Mayer, who posted the image on Instagram sometime back.
Preston, 28, and 67-year-old Tyler have been spotted together on a number of occasions including vacations, but this was the first time the two made a public appearance hand in hand. Tyler has been married twice and was engaged to Erin Brady before the two split in 2013.
Meanwhile, the Amazing singer was recently in the news after he threatened to sue Republican presidential candidate Donald Trump for using his song Dream On at campaign rallies. Tyler, who is an ardent Republican supporter, sent Trump a cease and desist letter in August, but when he continued to use the track a second letter was sent to Trump's campaign committee.
"(Tyler's) position has always been consistent regarding copyright and intellectual property," Tyler's attorney Dina LaPolt told TMZ. "Simply, one must get permission from the music creators. Steven wrote 100 per cent of Dream On, and this is about the unauthorised use of his property," LaPolt added.
The letter to Trump stated that the real estate mogul did "not have our client's permission to use Dream On" or any of Tyler's other songs and that it "gives the false impression that he is connected with or endorses Mr Trump's presidential bid".