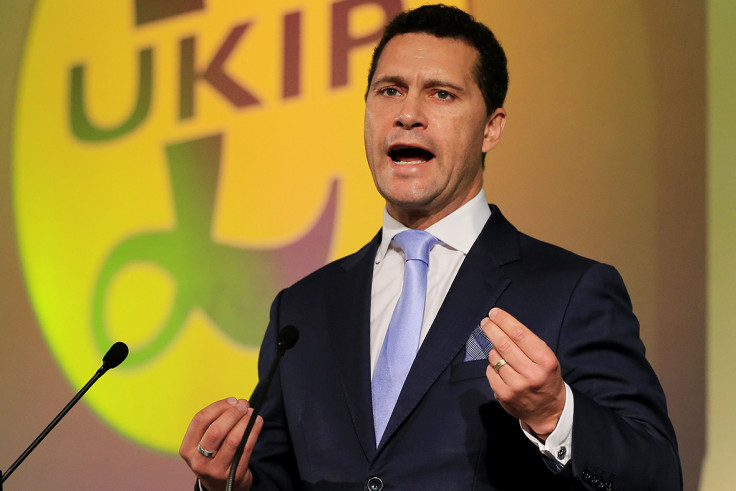 Steven Woolfe left hospital after being injured when he collapsed in the European Parliament following an altercation with a colleague.
According to a statement released by Ukip, he is remaining "focused on continuing his recovery".
Woolfe had been in Hautpierre hospital since Thursday, 6 October, when he suffered two seizures after a heated encounter with fellow Ukip MEP Mike Hookem.
Woolfe left the hospital by a back entrance and is understood to be heading out of Strasbourg, according to BBC political correspondent Alex Forsyth.
A Ukip spokesman said there would be no further statements from Woolfe.
Woolfe collapsed after the altercation had taken place at the MEPs' meeting over whether the leadership favourite had been talking to the Conservative Party.
Woolfe had a row with fellow Ukip MEP Mike Hookem at the meeting, before the pair went outside together.
On Saturday (8 October), a spokesman for Woolfe said medical examinations suggested Woolfe had bruising on his face that was not consistent with just a fall or seizure.
Hookem – who has admitted the pair had a "scuffle" – has since tweeted a photo of his "unbruised" hands, saying he did not punch Woolfe.
Interim leader Nigel Farage has announced that there will be an inquiry into the incident.
Leadership candidate Woolfe will face renewed opposition to his bid for the party's top job.
Fellow MEP Bill Etheridge has announced he will stand in the leadership election. He told BBC's Sunday Politics he would not be supporting Woolfe's leadership bid, adding: "And yes, I will be standing."
The party's former chair, Suzanne Evans, has said she is also considering running in the election.
Raheem Kassam, former leader Nigel Farage's chief of staff, has already declared he will stand for the leadership.
Some Ukip MEPs have called for Woolfe to drop his leadership bid. Jonathan Arnott who described the incident as "absolutely disgusting" and said it portrayed Ukip in an "appalling light", according to the Daily Mail.
Gerard Batten, MEP for London, also blamed Woolfe for what the scuffle.
In a blog post giving his version of events, the co-founder of Ukip explained how Woolfe had challenged Hookem to "settle things outside" shortly after the start of a meeting to discuss allegations he had held talks with the Conservatives about his possible defection.