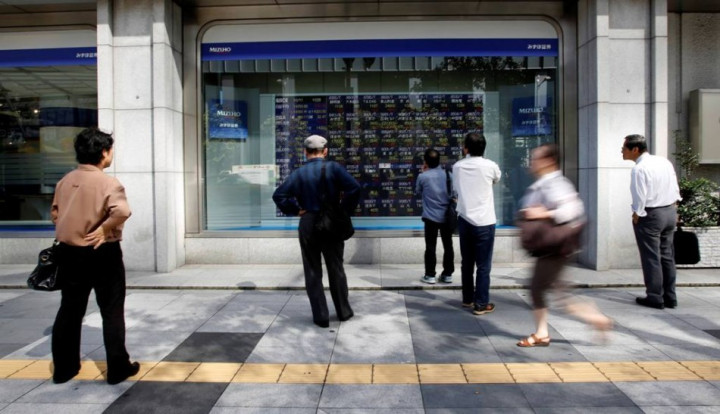 Asian stock markets finished the week higher with India's Sensex leading the pack and Australia's ASX trailing.
Asian markets reversed early gains and traded lower at the beginning of the week, as fears of a US credit default worsened, amid the ongoing US government shutdown.
House Speaker John A Boehner told ABC that the US was headed towards a credit default.
The "markets remain unimpressed with the lack of progress in breaking the US deadlock," Kenichi Hirano, market adviser at Tachibana Securities told Marketwatch.
In company news, Singapore-based investment firm Asiasons Capital nosedived 90% to S$0.17, while sterilisation-services company Bluemont Group plunged 81% to S$0.167 in early trade. Trading in both stocks resumed following a halt imposed by the Singapore Exchange on 4 October.
Australian firm Discovery Metals tanked 11% on news that one of its shareholders, Singapore-listed Blumont, plunged in early trade, extending 4 October's 56% drop. Blumont subsidiary Bluemont Copper owns a 12% stake in Discovery.
In Tokyo, troubled utility firm Tokyo Electric Power (Tepco) tanked 8% after it revealed that a power failure knocked-out several pumps used to cool the crippled nuclear reactors at the Fukushima Daiichi power plant.
Markets outside Australia traded higher on 8 October after data showed that China's services industry continued to expand in September, albeit at a slower pace.
In mainland China, financial markets resumed trading after the Golden Week holidays.
The Markit-HSBC China services purchasing managers' index (PMI) dipped to 52.4 in September, from August's 52.8. A rise in new business compensated for the slowdown in new orders, according to the survey.
In Japan, government data showed that the country's current account surplus for August stood at 161.5bn yen, below economists' expectations.
Elsewhere, in India, the country's central bank unexpectedly cut a benchmark interest rate in a bid to improve liquidity in the financial market, reversing from its earlier tightening measures in line with the rupee's weakness.
"There was no bad news over the National Day holiday week, so [Chinese] stocks are turning slightly higher," Tang Yonggang, analyst with Hongyuan Securities told Marketwatch.
However, "it's a pretty fickle market out there at the moment," Shane Oliver, head of investment strategy at AMP Capital told CNBC. "Markets are going to remain quite volatile" amid the US budget discussions.
Markets outside Hong Kong traded higher on 9 October as players welcomed US President Barack Obama's decision to name Janet Yellen as the next chairman of the Federal Reserve.
"The main thing is that Yellen is seen as having policies in line with Bernanke," said Stan Shamu, market strategist at trading firm IG.
"The news might temporarily take traders' minds off the budget stalemate and debt ceiling - certainly it does look like it will give markets a kicker today."
Most Asian markets traded lower on 10 October even after President Barack Obama scheduled meetings with politicians in a bid to break the ongoing budget impasse and prevent America from defaulting on its debt obligations.
However, Japanese stocks bucked the trend on upbeat economic data.
In Japan, government data showed that core private-sector machinery orders in August increased 5.4% over July, beating expectations. A Reuters survey had forecast a 2% increase.
The news boosted Japanese stocks. The August reading suggested that Prime Minister Shinzo Abe's policies, dubbed "Abenomics", was filtering through to companies.
Elsewhere, in South Korea, the country's central bank left its policy rate unchanged at 2.50%.
"Everyone is trying to remain optimistic about the US budget impasse and until that's restored it's hard to move forward," said Kelly Teoh, market strategist at trading firm IG, in Singapore.
Markets across the region traded over 1% higher on the final trading day on renewed optimism that US politicians would negotiate a truce before 17 October, and avert a debt default.
Overnight discussions at the White House failed to produce a fiscal truce between the Democrats and the Republicans.
However, both sides appeared inclined to push for an early solution.
Key Republicans led by House Speaker Boehner presented a plan to extend the borrowing powers to another six weeks in return for the government's assurance on opening talks on long-term spending cuts and a tax overhaul.
President Obama did not immediately accept the Republican proposal for a short-term extension of the Treasury's borrowing powers, which would avert a debt default, as the Republicans would not tie it with a plan to re-finance the government stalled for more than ten days.
"Asian markets are acting like we have already seen agreement on extending the debt ceiling through to 22 November. However, it almost seems as if they are also assuming an end to the shutdown could also be worked into an agreement," said Chris Weston, market strategist at IG.
Market Movements
India's S&P BSE Sensex finished 3.14% higher at 20,528.59.
The Shanghai Composite index ended 2.66% higher at 2,228.15.
The Japanese Nikkei index ended 2.55% higher at 14,404.74.
South Korea's Kospi finished 1.20% higher at 2,024.90.
Hong Kong's Hang Seng ended 0.40% higher at 23,218.32.
Australia's S&P/ASX 200 finished 0.39% higher at 5,230.90.
The Week Ahead
Market players will closely watch developments in Washington, where lawmakers are expected to work through the weekend to resolve the fiscal standoff as early as possible.
Following the 10 October White House meeting, Republican and Vice Chair of the House Republican Conference Lynn Jenkins, said: "...we hope to have [the government] open by [15 October]."
The US government shutdown will enter its 13th day on 13 October and Congress will have five days to decide whether to raise the US debt limit.
The world's largest economy could run out of cash to pay its bills after 17 October if the government's borrowing limit is not raised. The country's laws limit its borrowing to $16.7tn (£10.4tn, €12.3tn).
There are various estimates as to when the US government could run out of money. Economists at JPMorgan provided a precise date of 24 October, an article in Time.com pointed out.
The Bipartisan Policy Center expects the date to be anywhere between 22 October and 1 November.
The week ahead will see China put out third quarter GDP data. The Chinese government will also put out industrial production, retail sales and inflation data for the month of September.
Japan will release data about foreign investments in Japanese stocks.
The Reserve Bank of Australia will put out the minutes of its most recent policy meeting.
The National Bank of Australia will put out the results of its business confidence survey, conducted in the third quarter.
Governors of the Reserve Bank of Australia (RBA) and the Bank of Japan (BoJ) will address a news conference.
New Zealand will put out inflation data for the third quarter.