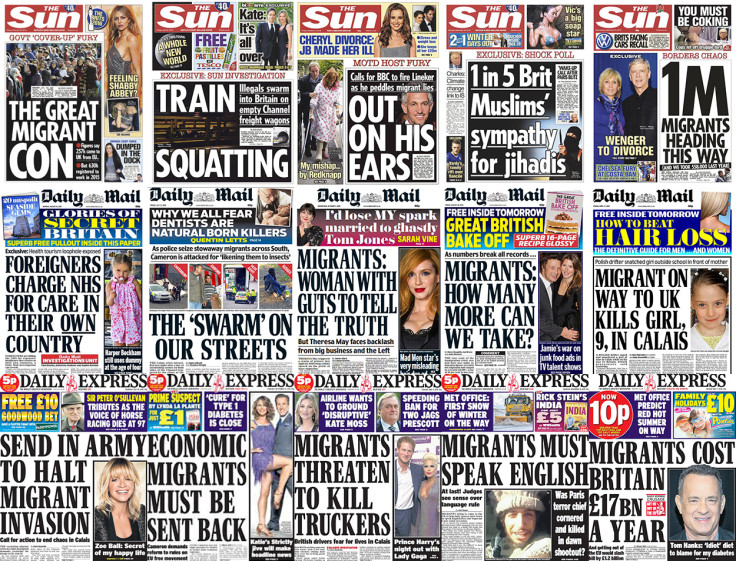 Stop Funding Hate, which works to challenge the "divisive hate campaigns" of the Daily Mail, Express and Sun newspapers, has celebrated an "amazing" crowdfunding result after people responded to an appeal for donations with double the amount needed.
The campaign officially raised £80,251 after an initial target of £40,000 with the support of 3,859 people in 28 days, after receiving huge amounts of attention for its attempts to stop companies advertising with the three right-wing newspapers due to their "racism, religious hatred and other forms of discrimination".
Richard Wilson, director of Stop Funding Hate, told IBTimes UK: "The response our Crowdfunder has been astonishing – but it's also a reflection of the huge public concern about hate and discrimination in the UK media. YouGov polling shows that just 10% of people think that the Daily Mail has a positive influence on our society – while 50% say that the Sun has a negative influence.
"With experts warning that the hate in our media has fuelled hate crime on our streets, this is clearly an issue that goes beyond politics, and we are proud to have supporters from across the political spectrum.
"We launched this Crowdfunder in response to a series of highly misleading, personalised attacks on Stop Funding Hate supporters by the Daily Mail, Sun, and Daily Express.
"We think that those attacks are a sign that the campaign is working. The money that Stop Funding Hate supporters have raised will enable us to significantly increase our campaigning activities in 2018."
The campaign's official Twitter page said the money will be used to "push back against hatred and discrimination in 2018". Wilson explained that the money will go towards making a full-time community organiser role, developing new campaigning resources and materials to enable supporters to become more active, improving the Stop Funding Hate website, and producing a series of videos giving voice to people directly affected by "media hate".
In 2016 and 2017, companies including Paperchase, Pizza Hut, Lego and The Body Shop backtracked from running promotions or adverts with at least one newspaper following criticism.
After Paperchase was forced to apologise for running a weekend promotion with the Mail in November, saying "we're truly sorry and we won't ever do it again," the newspaper hit back with a full page spread. An article described Stop Funding Hate as "hard Left pro-Remain Corbyinistas" and columnist Sarah Vine called them an "arrogant, tiny minority who want to impose their views on us all".
Meanwhile Foreign Secretary Boris Johnson called Paperchase's decision and Pizza Hut's apology for running a promotion for free pizza with The Sun on Sunday "sad and mistaken and indeed cowardly".
Writing in The Sun last month, Johnson said: "It is not as if this internet campaign commands overwhelming public support. Despite all the noise and virulence of their campaign, there are said to be fewer than a thousand people who are actively involved.
"And these companies should realise that they are bowing to a ruse – the attack on advertisers – that comes straight from some of the worst authoritarian regimes in the world."
A survey conducted by YouGov in December asked 1,682 people if they thought different newspapers had a positive or negative influence on society. Half of participants said The Sun had a negative influence, compared to 5% saying positive. The next biggest perceived negative influence was from The Daily Mail, at 38%, although 10% of readers considered them to have a positive effect.
The other target of the campaign, The Express, saw a negative influence from 28% of participants, compared to 8% positive. More people said it had neither a positive or negative influence, or that they did not know.
IBTimes UK has made efforts to contact The Sun, The Mail and The Express for their views on the Stop Funding Hate campaign.