The Campaign for Nuclear Disarmament (CND) has railed against "ridiculous" suggestions that Labour leader Jeremy Corbyn should distance himself from the group. The defence of the left-winger's decision to attend an anti-Trident rally in central London on 27 February comes just hours before Corbyn is expected to deliver a speech to around 10,000 activists in Trafalgar Square.
Ian Chamberlain, spokesperson for CND, told IBTimes UK: "I don't really understand why [Corbyn's attendance] is controversial because Jeremy in his leadership campaign was elected on a 10-point plan – point six of that plan was his opposition to Trident and not renewing Trident.
"So the idea that he could suddenly distance himself from the movement that he's been involved with pretty much all of his life sounds ridiculous."
But Labour MPs and the GMB Union have criticised Corbyn's move. The Scottish secretary of the GMB said that "tens of thousands" of jobs could be axed if the UK government does not renew Trident.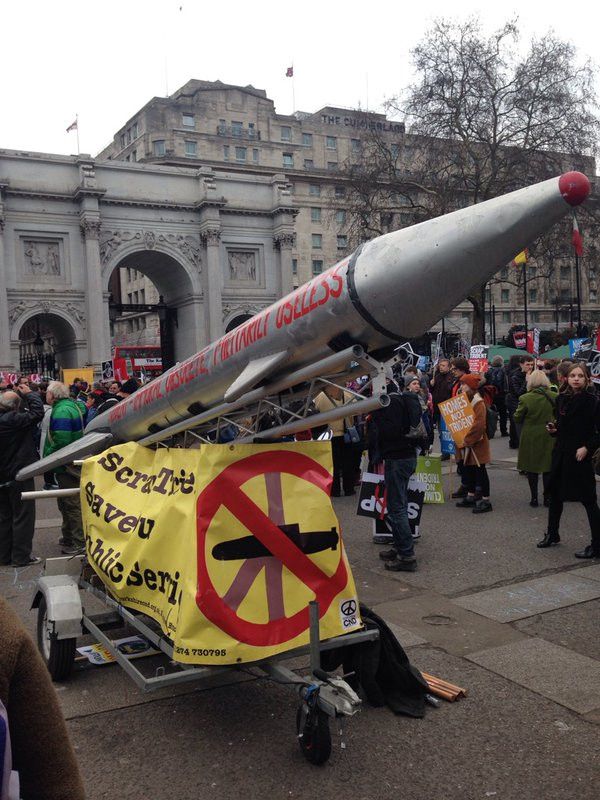 Deputy Labour leader Tom Watson also recently said a majority of the party's MPs would back David Cameron and the government if a vote was held to renew Trident in the House of Commons. The row at the top of the Labour Party comes as shadow defence secretary Emily Thornberry leads a defence policy review, which she hopes to publish in June.
Green MP Caroline Lucas and First Minister of Scotland Nicola Sturgeon are set to speak at the anti-Trident rally alongside Corbyn. Despite the cold conditions, thousands of activists made their way to Trafalgar Square from Marble Arch.
Chamberlain told IBTimes UK that he estimated more than 10,000 people were at the demonstration and revealed 70 coaches had headed down to the protest from outside of London. "It's going to be a big one," the CND spokesman.