Top politicians and celebrities are joining thousands of anti-nuclear weapons activists as holding rally in London on 27 February, demonstrating against the UK's nuclear deterrent, Trident. The protest, which has been organised by the Campaign for Nuclear Disarmament (CND), will feature speeches from Labour leader Jeremy Corbyn, the First Minister of Scotland Nicola Sturgeon and Green Party MP Caroline Lucas.
More than 10,000 people have registered their attendance on the CND's events page for the rally on social media site Facebook. The demonstrators will also be joined by well-known campaigners such as actress Vanessa Redgrave as well as representatives the Public and Commercial Services Union and the Stop the War Coalition.
There was a good-humoured atmosphere as activists braved the cold and assembled in their hundreds by Marble Arch. John Boulton, a former serviceman with Veterans for Peace, told IBTimes UK that it is great to see that Corbyn will speak at the event and he described the Labour leader as a genuine politician.
A Metropolitan Police spokeswoman said: "We are aware of a planned march and rally that is taking place in central London on Saturday the 27th of February. "Participants will form up from 12 o'clock in Park Lane to move off at one o'clock. They will march to Trafalgar Square via Piccadilly, Regents Street, James Street and Pall Mall.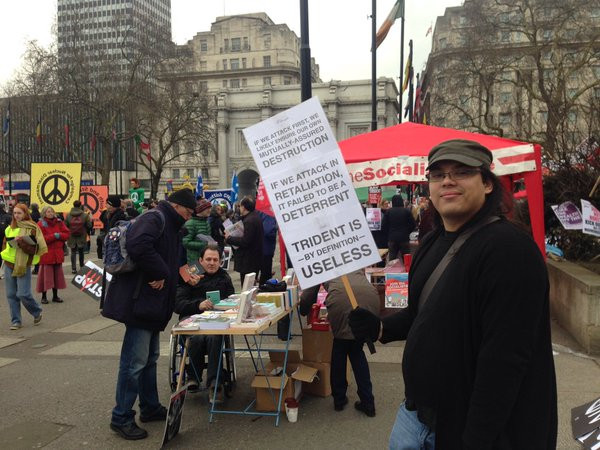 "Officers from the Met's liaison team have been engaging with the organisers and will be on the ground on the day. An appropriate police plan is in place and there will be temporary road closures to facilitate the march from Park Lane to Trafalgar Square."
A spokesman for Transport for London said: "We are issuing no special advice on the march. Traffic diversion notices will be in place on the streets for drivers."
What is Trident?
Trident is the name given to the UK's fleet of nuclear submarines that carry – and would launch – the nation's nuclear arsenal. The fleet consists of four Vanguard-class submarines capable of carrying 16 Trident II D-5 ballistic missiles, that give the programme its name.
Based in Clyde, Scotland, at least one submarine is always deployed while the others undergo maintenance and take part in training exercises. If MPs vote to renew the fleet it would be ready for service in 2028.
The government puts the cost of replacing Trident at £20bn but critics say it is much higher than that.
That is one of the reasons why Trident is a political hot potato, the other being jobs. About 6,700 military military staff and civilian workers are based at HM Naval Base Clyde.
Labour debate
Deputy leader Tom Watson urged David Cameron to hold a vote on the issue in the House of Commons and claimed a majority of Labour MPs would back the government.
"I'm in favour of a continuous at sea nuclear deterrent. My party's policy favours a continuous at sea nuclear deterrent," he told the EEF manufacturing conference on 24 February. "Our trade unions, who represent thousands of workers in the 450 companies who form the supply chain that make it, are in favour of Trident."
Watson added: "You may have read that this view is not shared by all our MPs. But I have made it clear to David Cameron that if he honours his promise of a vote on Trident I will support it.
"There are enough Labour MPs to guarantee that the vote is won. I know the prime minister is currently pre-occupied with the European Referendum, but I happen to believe that the sooner this vote is tabled, the greater certainty we can give to industry, our allies and our enemies, that British industry will deliver the Trident project in good time."
Labour-supporting trade unions have also raised serious concerns about Corbyn's anti-nuclear stance. GMB's Scottish secretary told IBTimes UK that "tens of thousands" of jobs could be lost if the government failed to renew Trident.
"This is not a debate for the wine bars of Islington and Edinburgh – this is real life for the workers and their communities," Gary Smith argued.
"This is not a fight we picked. The people who started this argument clearly have no idea of the massive ramifications for not renewing Trident and they don't understand how the whole shipbuilding industry and defence sector is linked together."
The comments came after the GMB Union held a Trident conference in Newcastle to discuss the future of the nuclear deterrent.
Labour MPs Kevan Jones and John Woodcock also attended the event alongside representatives for workers linked to the nuclear system from Barrow, Devonport, Faslane, Coulport, Rosyth, Clydeside, Derby and Merseyside.
Emily Thornberry, Labour's unilateralist shadow defence secretary, is leading a review into party's policy on Trident. Thornberry is aiming to publish an interim assessment in June. The report will then go forward to Labour's National Policy Forum and annual conference for agreement.