An Australian cryptocurrency lab has launched its own Aussie-themed coin that promises to help people buy jars of Vegemite and pet kangaroos.
Jack Hurley, chief executive of 47.com.au, unveiled Strayacoin on Australia Day (26 January) and is promising that it is "the real deal". Although it cannot yet be purchased from a market place, the company is encouraging anyone interested to start mining using "any shitty PC or laptop".
There are about 25 million Strayacoins (24,809,843 to be exact) already in circulation - "one for every Aussie based on Australian Bureau of Statistics figures on Australia Day 2018". Strayacoin is built on the same crypto-architecture as Litecoin.
The real magic of Strayacoin comes from the website's extremely Aussie-slang description of what the cryptocurrency actually is.
"Strayacoin is a fair dinkum, decentralised, mate-to-mate digital Dollaridoo that you can use to pay Davo back after a trip to the servo," the website reads. "Strayacoin is a fancytech digital currency that enables you to send billies to anyone out yonder or OS (overseas)." (Translations available at the bottom of this story).
The coin's logo is also peppered with Australian references. Lining the outside are Australian expressions such as "G'day Mate" and "Shrimp on the Barby". An inner-circle has a loop of flip flops (which Australians call thongs) and the centre of the coin is a beer can.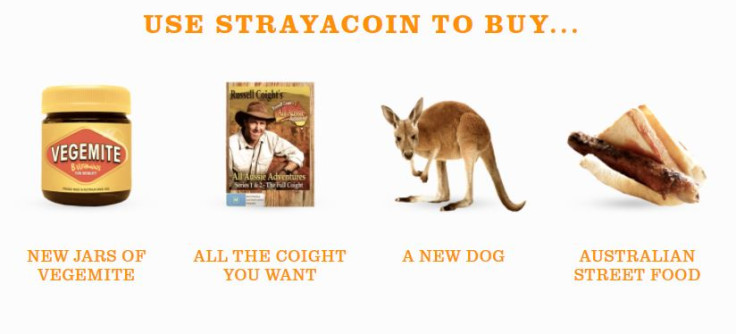 "We think Aussies are ready for this and are as toey as Roman sandals to start using the Strayacoin," Hurley said. "As a result, we've built the Strayacoin sytem to have one coin for every Aussie, and of course the coins themselves are divisible into smaller units and exchange for other crypto and regular currencies."
The website includes a detailed explanation of how anyone can mine the coin for themselves. Unlike the rest of the tongue-in-cheek wesbite, the instructions page keeps everything quite formal - except for the last piece of advice. "Mine like Clive mines sausages at a sausage sizzle, have fun... remember this is suppose to be fun."
Strayacoin collaborator Aaron Taylor was the creator of STRAYA CASH, a series of artworks that re-imagined AUD bills with famous Australians and landmarks. Cricketer Shane Warne appears on the $50 note and the $5 note had a picture of the MCG. The $100 note was reserved for Crocodile Hunter Steve Irwin.
If it turns out that Strayacoin is legitimate, it will no doubt attract some attention from patriotic cryptocurrency buyers.
Translations:
Fair Dinkum: Genuine
Mate-to-mate: Peer-to-peer
Dollaridoo: Australian dollars
Davo: A guy called David
Servo: Service station
Billies: Money
Out yonder: Somewhere else
Toey: Eager
Clive: Australian politician Clive Palmer