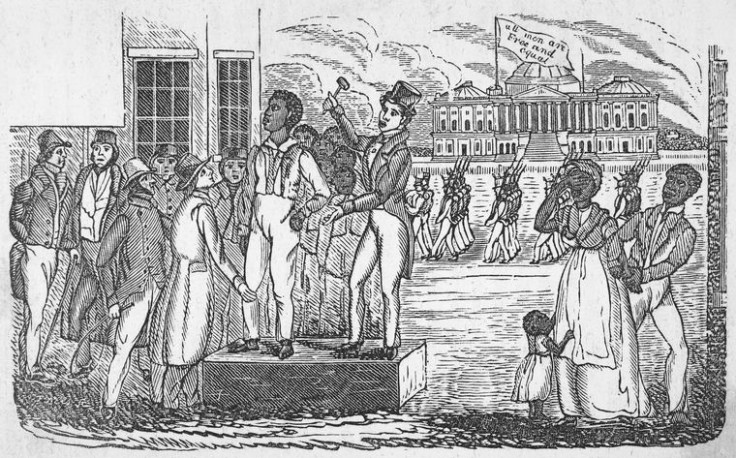 A Michigan camp has been forced to call a halt to its student "slave reeanactment" programmme after Detroit area parents complained their 10-year-old children were "sold" in mock slave auctions, and chased down by teachers on horseback.
The YMCA camp, called "Underground Railroad," was touted as an educational experience, and was sanctioned by several area schools. But the American Civil Liberties Union warned of the legal implications of continuing the camps after African American parents complained that their children were traumatised by their experiences, reports the Detroit News.
"My daughter ... was very disturbed, and she told me what happened," said one local mother, Tiffany Birchett, who complained to the principal at her daughter's school that the camp was "racially insensitive."
"The slave masters," including camp instructors and teachers, had certificates "which allowed them to pay for the slaves, and the students were required to hold up the certificates when they were bought or sold," she explained.
The principal defended the programme, even noting the historical realism of the experience in that the children were ordered not to look in the eyes of the slaves masters because it was considered "disrespectful to do so" at the time. Another mother complained that her daughter watched a re-enacted killing of a deputy.
"They should not do that in front of a 10-year-old, and not when kids are hundreds of miles away from home," the mother said. "If they want to teach black history, they should do that in the classroom."
After parents complained to the ACLU, the organisation wrote a letter to the YMCA, warning the organisation to halt the camps. "Not only is the Underground Railroad activity emotionally and intellectually harmful," wrote Mark Fancher, attorney for the Michigan ACLU Racial Justice Project, "it also creates a racially hostile environment that has legal implications both for the camp in its role as an educational institution ... and for the schools that send their students to the camp facility."
The camps, which had been conducted for 20 years, were immediately discontinued. A YMCA spokesman said the programme was stopped "when we were recently informed of a child who felt unsafe during the experience." Fancher said the ACLU encourages "further efforts to educate children about slavery but without re-enactments and in consultation with experts."