Devastated American scientists are probing a sudden, cataclysmic loss of up to half the coral in a section of a Gulf of Mexico marine sanctuary.
"To say I'm shocked would be an understatement. I've studied this area for 19 years and I've never seen anything like this," said Emma Hickerson, research coordinator for the Flower Garden Banks National Marine Sanctuary.
"It's absolutely sickening. These corals have been there for hundreds and hundreds of years," she told the IBT Times.
Hickerson and sanctuary administrators learned of the death of the coral — along with hundreds of other sea creatures from sponges to urchins, brittle stars and clams in the same area — just days ago.
They were alerted by organisers of a sport diving expedition in the area, which is 100 miles off the southern coast of Texas and Louisiana.
The gulf sanctuary covers some 54 nautical square miles that include the East and West Flower Garden Banks, which are among the most biologically diverse ecosystems and healthiest reefs in the world.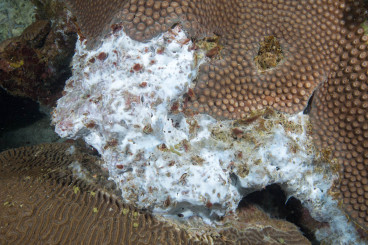 But instead of enjoying the usual crystal blue water over an array of colorful coral, crustaceans and fish on the Flower Garden East Bank, expedition divers discovered murky green water, hundreds of dead animals on the sea floor, and dead and dying coral and sponges covered with a white mat-like growth.
The expedition captain alerted nearby scientists from the National Oceanic and Atmospheric Administration (NOAA) and the Bureau of Ocean Energy Management (BOEM), who were conducting annual monitoring work some 900 yards (823m) away where they saw no evidence of what has now been deemed a "large-scale mortality event."
So far the west bank isn't experiencing the same devastation, but scientists fear that whatever is happening could spread like wildfire to a broader area.
What's causing it is still a mystery as investigators scramble to collect a wide range of water and biological samples. Hickerson said just days after the report from the expedition, biological samples of dead animals were crumbling in research divers' hands.
Investigators speculate that the massive die-off could be due to any one of a number of factors — or some combination of all of them. The effects are so dramatic that they could have been caused by a chemical spill, said Hickerson, though there has been no report of such an event.
Disease, climate change and an increasingly polluted environment including poor water quality are all concerns. The temperature of the water is currently extremely high — 86 degrees (30C) — and fresh-water run-off from the Mississippi River delta area could have somehow dangerously tilted the ecology of the sanctuary. The massive run-off "plume" of water has low salinity and is packed with additives such as fertilizer from the US land mass. As plankton and other growth fueled by fertilizer begins to decay, CO2 soars and needed oxygen in the water plummets.
The destruction of the coral has been so extreme that some experts feared the water was toxic for humans. The sanctuary has issued a recommendation that divers, fishermen and boaters stay out of the area for their own protection as well as to avoid spreading any toxic effects.
For now, investigators are continuing to collect samples in a bid to solve the mystery.