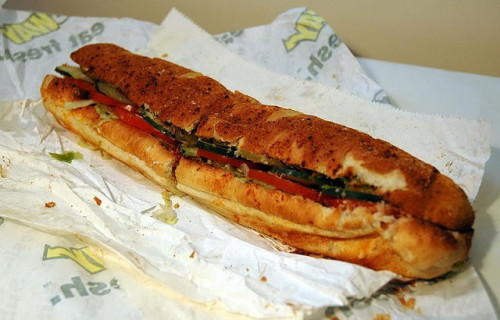 The Subway sandwich chain has confirmed that it had begun to remove a chemical used to make yoga mats from its bread following an online petition.
The sandwich chain said it was in the process of removing the chemical azodicarbonamide as part of an effort to improve its recipes in the US.
Azodicarbonamide, which is banned in the UK, Europe and Australia, is used in North American Subway stores as a bleach in cereal flour. It also improves shelf-life of bread.
Food blogger Vani Hari pointed out that the chemical was also used to make yoga mats, shoe rubber and other rubber items.
Hari, who runs FoodBabe.com, started an online petition demanding Subway remove the chemical from its recipes.
Hari said that although the chemical was used elsewhere, she had focused on Subway because of the healthy image the chain projects.
"Azodicarbonamide is not supposed to be food or even eaten for that matter. And it's definitely not 'fresh', the petition read.
More than 67,000 signatures signed up but the retailer said that a decision to remove the chemical had already been made.
"The complete conversion to have this product out of the bread will be done soon," Subway said. It gave no timeline.
In the US, azodicarbonamide is used in Subway's nine-grain wheat bread, Italian bread, and sourdough. In Canada, the chemical is used in its deli-style rolls and Italian bread.
Subway does not use the chemical in any other of its stores around the world.
Its social media site was inundated with complaits about its use of the chemical.
"I will not be eating at Subway again till you take azodicarbonamide out of your bread. You only use it here in America. Why?" said one user on Facebook.
A second added: "Why are you using a toxic chemical that is banned in other countries in your bread and calling it healthy. I beg to differ."
The World Health Organisation has linked the chemical to respiratory issues, allergies and asthma. The UK Health And Safety Executive has recognszed azodicarbonamide as a potential cause of asthma.