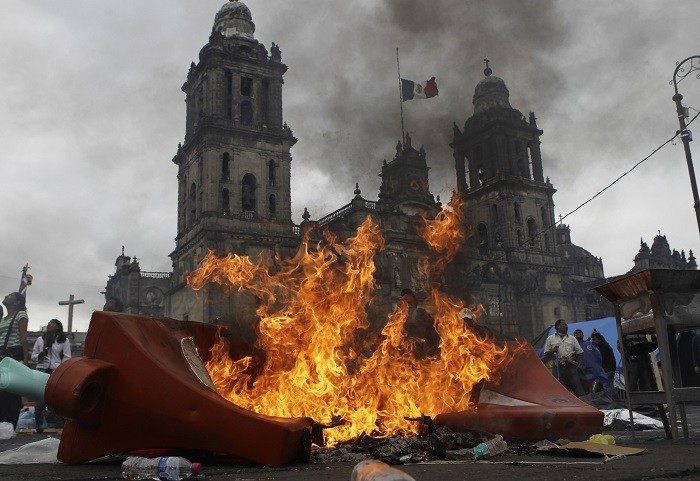 Four protesters have been shot dead by unidentified gunmen during anti-government protests in Sudan, taking the official death toll to 33.
"Unknown shooters fired on demonstrations in Khartoum Bahri, Khartoum, and Omdurman" during protests, the police told the SUNA news agency. "As a result of that, four civilians were killed."
Thousands of people took to the streets of Sudan's capital Khartoum to demand the resignation of President Omar Hassan al-Bashir.
This follows days of unrest in which dozens of people have been killed. People are angry at the government cutting fuel and cooking gas subsidies and fuel pump prices have more than doubled.
In Khartoum's Burri district, more than 1,000 people congregated for the funeral of one of the victims, Salah Sanhuri, a doctor from a prominent merchant family with strong ties to the government.
Over 2,000 people joined the funeral procession, shouting, "Freedom, freedom," and, "The people want to overthrow the regime", blocking a main road, according to a Reuters report.
More than 5,000 people have demonstrated in Khartoum, the biggest turnout in central Sudan for many years.
The city of Khartoum is filled with armed civilians and security personnel carrying rifles, patrolling the streets and manning rooftops.
Opposition activists have accused Bashir's National Congress Party of vandalism and of arming militias to turn the public against the protesters.
Bashir, who seized power in a 1989 coup, has not yet faced the sort of Arab Spring uprising that has unseated autocratic rulers from Tunisia to Yemen since 2011, but mounting fury has risen over corruption and rising inflation in the country.
The Sudanese president has held on to power for almost 25 years despite armed rebellions, US trade sanctions, an economic crisis, an attempted coup last year and an indictment from the International Criminal Court for war crimes in the western Darfur region.
However, he still has the support of the army, his ruling party and wealthy Sudanese with extensive business interests.
America has accused the Sudanese authorities of using excessive force and expressed concern at reports the government had arrested or detained activists and restricted access to the internet and mobile telephone networks.
"The United States condemns the Government of Sudan's brutal crackdown on protesters in Khartoum, including the excessive use of force against civilians that has reportedly resulted in dozens of casualties," said state department spokeswoman Jen Psaki.
Amnesty International and the New York-based African Centre for Justice and Peace Studies said at least 50 people had been killed by gunshots to the chest or head, citing reports from witnesses, relatives, doctors and journalists.