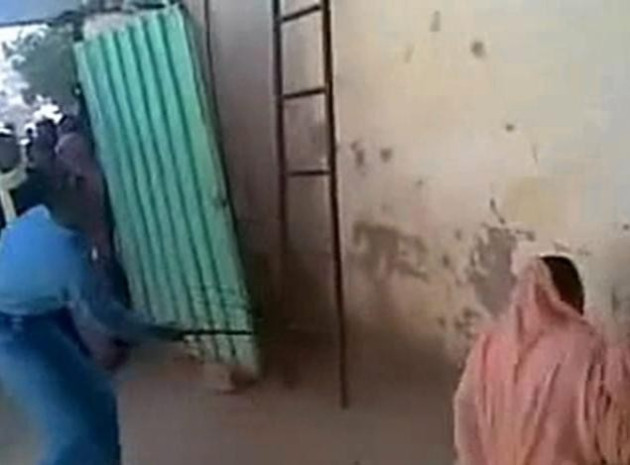 A disturbing video showing a Sudanese woman flogged in public has emerged online.
In the video posted on YouTube by a Sudanese opposition media organisation, a police officer is seen hitting the woman with a whip, while a small crowd watches without protesting or intervening.
"This is so you don't get into cars anymore," the officer tells the woman, who is said to be named Halima, as he lashes her on the back.
Halima was reportedly punished for riding in a car with a man who wasn't her husband or an immediate family member.
Hala Alkarib from the Strategic Initiative for Women in the Horn of Africa and said the video was genuine but there's no indication of when the flogging took place.
France24 television reported that the accent of those speaking in the video suggests it was shot around the capital Khartoum.
The governor of Khartoum State, Abdul Rahman Al Khidir, said the woman was rightfully punished under Sharia law but the flogging was not properly carried out, Opposing Views reported.
Sudan adopted lashing as legal punishment for women after the 1989 coup d'état that brought Omar al-Bashir to power.
Ruth Njeng'ere from the female rights watchdog Equality Now told IBTimes UK the number of floggings has increased in recent months.
However lashes are just one of a series of cruel punishments Sudanese women are exposed to.
"While flogging is attracting international outcry and curiosity, there are many women and girls facing fines, short and long term imprisonment and other forms of corporal punishment," Njeng'ere said. "Basically, it goes beyond the flogging."
Under Sudan's criminal code women are punished for prostitution and violation of public decency only by meeting a man or wearing clothing that police deem as inappropriate.
Equality Now is campaigning in support of Amira Osman Hamed, a 35-year-old woman who faces whipping for she refused to wear a hijab.