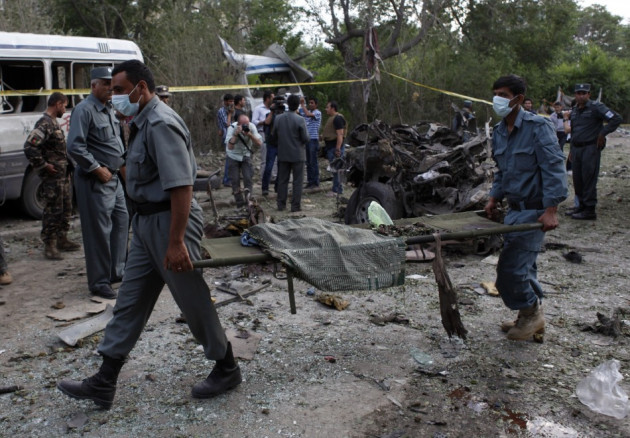 A suicide bomber killed at least 17 people and wounded 39 at Afganistan's supreme court building in a second day of militant attacks in the heart of Kabul.
The Taliban claimed responsibility for the attack, saying it had targeted judges who obey Western powers. The UK have expressed concern over increasing civilian casualties.
The bombing was the deadliest attack in Kabul since December 2011 when a suicide bomber detonated an explosive device at a Shia shrine, killing at least 80 people.
On the Kabul attack, court employees were leaving the building by the back entrance after the end of the working day when the bomb went off.
Police spokesman Hashmat Stanikzai said the bomber drove an SUV and specifically targeted court workers' buses. Police said all the victims were civilians or court staff.
The courthouse is on a busy main road in central Kabul, near the US embassy. Nato headquarters is also nearby.
Taliban spokesman Zabiullah Mujahid said the militants were obliged to attack "cruel judges".
The Taliban and other groups have unleashed a wave of bombings and assassinations around the country, testing the ability of the Afghan security forces to respond with reduced help from international troops, who are being drawn down. Most foreign troops will have left the country by the end of 2014.
President Hamid Karzai condemned the bombing. It was, he said, another "terrorist act that once again shows the Taliban are serving the enemies of Islam".
The Taliban said they would go after government workers as part of a spring offensive on those serving the "puppet" administration of Karzai.
"The Islamic Emirate of Afghanistan was obligated to act against this puppet regime because the people have suffered under the courts," said Mujahid.
On Monday, seven Taliban fighters with rocket-propelled grenades and machine guns launched a rare assault on Nato's airport HQ. All seven militants were killed and two civilians were wounded.