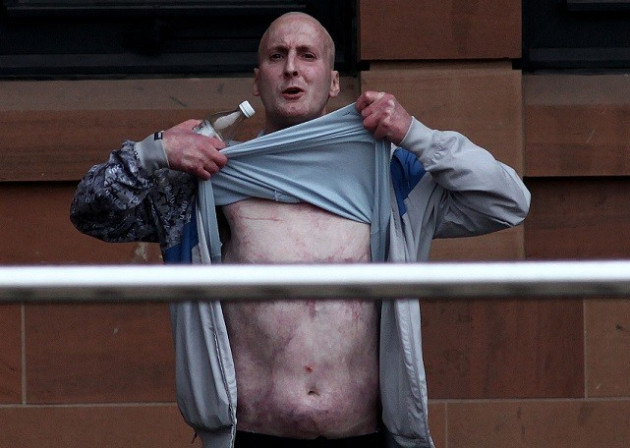 This is the man who nearly blew himself, his neighbour and his neighbour's to pieces after deciding he did not actually want to gas himself to death.
Holding aloft a shirt outside court with claw-like hands to reveal vivid scarring, Michael McStay was jailed at Newcastle Crown Court for arson.
The 39-year-old sparked a huge explosion which blew the roof off his gas-filled flat when he lit up a cigarette.
McStay had decided not to gas himself to death and was going to smoke a cigarette in celebration of choosing life.
The massive blast in 2011 knocked McStay in to a coma for three months, caused his heart to stop beating three times and left him needing 30 operations. Also inside the property at the time was his son.
Eyewitnesses described a scene of devastation with flaming rubble falling from the sky in the neighbourhood of Elswick. From the street they could spy McStay inside the blown-up wreck of his kitchen with 65% burns to his body.
The incident left the 27-time offender with "useless clawed hands" and burned off all his hair.
The disaster was "inevitable", said Judge Jeremy Freedman, who sentenced McStay to two years and three months in jail.
He said: "It was your intention to take your own life but you thought better of it. You opened the window and somewhat naively believed the gas would then escape," reported the Newcastle Chronicle.
"What you then did, as an act of folly, is light a cigarette and the inevitable happened. There was what can only be described as a massive explosion.
"There could have been three fatalities here. Your downstairs neighbour, his son and you were lucky to escape alive."
Paul Caulfield, defending, called for clemency.
"His hands are clawed and virtually useless, his feet are extremely badly damaged and he is on heavy pain killers and has not slept properly for two years. He has served the equivalent of a two-year prison sentence during his time in hospital," he said.