The involvement of Will Smith, Margot Robbie and of course, Jared Leto in the upcoming film Suicide Squad has been the main point of focus when it comes to talking about the super-villain mash-up movie. But one character that has remained elusive in the last few months has been Enchantress, with little being known about her other than the fact that she's being played by Cara Delevingne.
But in a forthcoming issue of Empire magazine, the 23-year-old has opened up about her character and given fans a little teaser as to who she was, before she became the all-powerful Enchantress. "She's an ancient sorceress," she told the publication. "A feral being. She's been trapped for so long and now she's finally let out."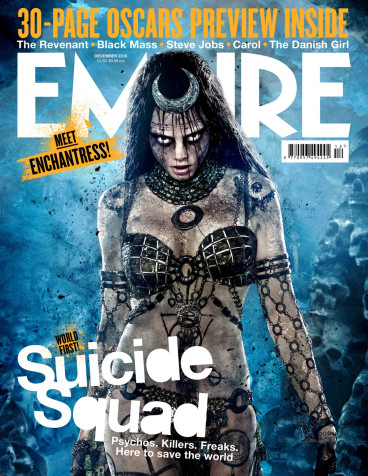 Within the DC comics, Enchantress begins her journey as freelance artist and ordinary woman, June Moone. One night, during a costume party in an old castle, she stumbles upon a secret chamber where a mysterious magical being transforms her into her dark alter-ego.
Sent crazy by her new-found abilities, Enchantress begins using them for bad and soon becomes a member of criminal organisation, The Forgotten Villains.
Whilst Suicide Squad might not be sticking to the exact same origin story within the movie, the trailer does indicate some kind of unwanted transformation of Delevingne's character. An incident that the Paper Towns actress claims is "terrible" for Moone.
"June is an adventure-seeker who's always wanted some excitement. And she gets what she wished for, in a terrible way."
The film, which also stars Common, Jai Courtney, Joel Kinnaman, Viola Davis and Ben Affleck, centres on a number of imprisoned super-villains, rather than the typical heroes, who are forced to carry out Black Ops tasks for a corrupt government agency in exchange for less severe jail sentences.
The movie won't reach UK or US cinemas until 5 August 2016, but even though fans have got a long time to wait before it is released, Empire promises that the model-turned-actress shares even more within their preview issue (which reaches news stands 29 October).
Revealing everything from what kind of music she listened to get herself into that Enchantress frame of mind, to recollecting the time she "freaked people out in a hotel spa". Looking at the edition's cover, this prank presumably happened whilst she was in that costume. Creepy.