Asia-Pacific neighbours – Indonesia, Malaysia and the Philippines – are holding joint manoeuvres on Monday (19 June) that are aimed at countering threats from Islamic militants in the region.
At the same time, Indonesia has deployed three Sukhoi fighters to the borders it shares with the Philippines to guard against insurgency and avert Islamic State (Isis) group-linked terrorists from entering its country.
In a bid to intensify the fight against the Maute militants group who have laid siege to Marawi City, a southern Philippine city, the trilateral maritime patrols were launched in the Indonesia city of Tarakan in northern Borneo.
"We need to watch out for the 500 to 600 terrorists there, 257 of whom have been killed already. The rest, based on information we are getting, are blending in with refugees to get out," Reuters cited Indonesian military chief Gatot Nurmantyo as saying.
The countries have also established designated sea lanes for ships in the sea route along its borders to prevent militants affiliated to the Isis from fleeing to neighbouring nations.
Jakarta has also set up a maritime command centre at its Tarakan naval base, a town in the province of North Kalimantan – a portion of the Borneo Island that belongs to Indonesia.
The patrol, which saw helicopters and surveillance planes flying overhead, was witnessed by defence ministers and army chiefs from the three countries.
"We see these (command centres) functioning as a triangle, like a spider's web, where everything inside the triangle will be monitored," Nurmantyo said.
The exercises were held in the face of other threats like piracy, kidnapping, terrorism and other crimes in the regional waterways, he added.
The port town of Tarakan is just across the border from Sabah, one of the two Malaysian states in Borneo. It also looks out across to Mindanao in the southern Philippines, which has been infamous for piracy and kidnapping.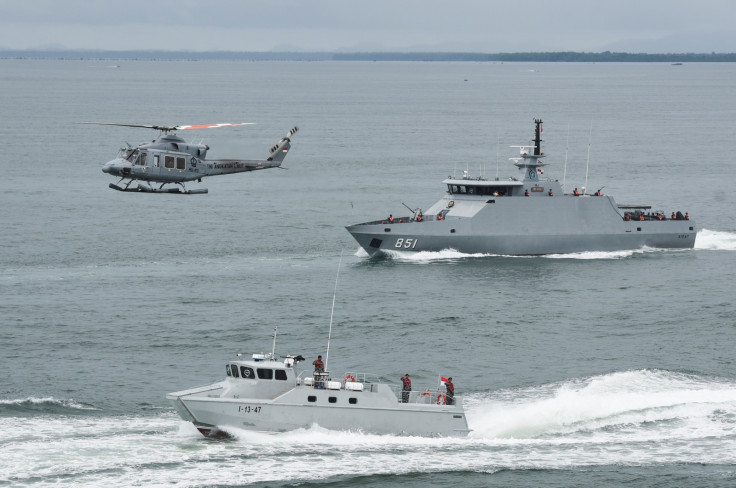 "The militants might flee the Philippines and be forced to cross the border into Indonesia," Tarakan Air Force base chief Colonel Didik Krisyanto told the state news agency Antara on Sunday (18 June).
The exercise comes as Filipino troops continue to battle the self-styled Isis group's attacks in the city of Marawi on Mindanao island.
More than 200 gunmen, 58 soldiers and policemen and 26 civilians have died since the siege began over 20 days ago. Filipino troops continue to battle the militants in the city of Marawi, in what is thought to be a serious attack in the Asia Pacific region by the Islamists.
The siege began after militants began attacking the town and kidnapping civilians in retaliation for the army's failed raid to capture terrorist Isnilon Totoni Hapilon in the country. The clashes have also left more than 200,000 residents of the city displaced, while more than 1,600 residents have been rescued from the besieged area.