Indonesian authorities have seized more than 200 live pangolins and several bags of its scales in a haul worth 2.5bn rupiah ($188,185, £147,741), media reports said on Wednesday (14 June).
The smuggling operation was uncovered by the Indonesian navy late on Tuesday. Acting on a tip-off, they raided a warehouse near a port on Sumatra island, according to an AFP report.
The authorities reportedly discovered 223 live pangolins as well as nine large bags of its scales during the raid. Besides, 24 of the creatures were found dead and frozen, local navy spokesman Sahala Sinaga told the news agency.
Two men suspected of trying to smuggle the animals have been arrested following the raid. The duo, both 43, were suspected of being small players in a larger syndicate, Sinaga added.
If proven guilty the men could face a jail term of up to five years and a fine of 100m rupiah for breaking wildlife protection laws in the country.
The pangolins, classified as a critically endangered species in Indonesia, were reportedly meant to be smuggled to Malaysia, he said.
Pangolins are often described as the world's most hunted animal, as extreme hunting and trade of their parts push the mammals to the brink of extinction. The mammal is in great demand in Asia where it is considered by some to have medicinal properties.
Pangolin scales are reportedly considered a delicacy in China, according to AFP.
The recent incident is believed to show further evidence that the trafficking of pangolins remain a major problem, especially in the Asia Pacific region despite conservationists' efforts to clamp down.
In August last year, Indonesian authorities seized more than 650 pangolins from alleged smugglers after they were found hidden in freezers on the main island of Java.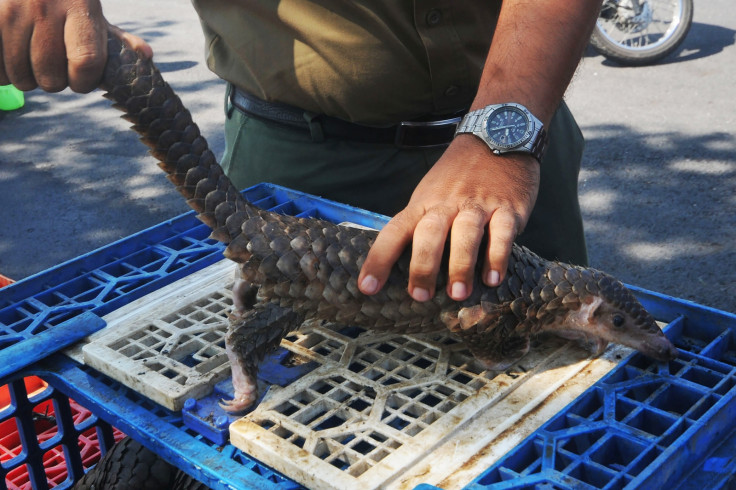 In a similar incident in Malaysia in May, authorities seized more than $2m worth of pangolin scales at Kuala Lumpur airport. It was believed to be the largest smuggling case involving the scaly anteaters in the country. Some 1,400 pangolins were thought to have been killed to yield the huge amount of scales.
Wildlife conservationists have raised concerns about the survival of pangolins in recent years. A study published in Conservation Letters indicated that more than 21,000kg of scales and 23,109 pangolins were trafficked in a total of 206 seizure reports during an eight-year period until March 2016. This means that around 66,000 pangolins have been killed in that period.
The endangered pangolin won protection from worldwide commercial trade in September last year. All the eight pangolin species were upgraded to the "appendix I" status under the Convention on International Trade in Endangered Species (Cites). The decision to increase their protection came in an attempt to protect it from extinction and the move was hailed by conservationists.