Malaysia, the Philippines and Indonesia are set to launch joint naval patrols on the island of Mindanao later this month as Malaysian Defence Minister Hishammuddin Hussein calls for all nations to fight all types of extremism.
Speaking at a security conference, the Shangri-La Dialogue in Singapore on Saturday (3 June), Hishammuddin warned that Asia-Pacific region is in the crosshairs for terrorist groups like the Islamic State (Isis) as they lose ground in the Middle East.
He said the threat from Isis was both "real and multi-dimensional, whether from returning fighters, regional franchises or more disturbingly, from self-radicalised lone wolves".
To counter threats from the extremists, the three nations will begin their joint sea patrols on 19 June, with air patrols scheduled for a later date, the defence chief added.
"If you talk about Sulu Straits [it] ... would involve Malaysia, Indonesia and the Philippines," Hishammuddin told delegates at the forum. "So within Asean [Association of Southeast Asian Nations], we decided at least these three countries, to avoid being accused of doing nothing, the three of us took the initiative to have the joint patrol... initiatives in the Sulu Straits."
The patrols will be launched in the Philippines' Mindanao region off Sulu Sea. The exercise comes as Filipino troops continue to battle self-styled Isis group's attacks in the city of Marawi on Mindanao island. Violent clashes in the region had forced President Rodrigo Duterte to declare martial law in the region on 23 May.
Duterte described the Marawi attack as the start of a major crusade by militants, who have reportedly pledged allegiance to Isis to establish a foothold in the country.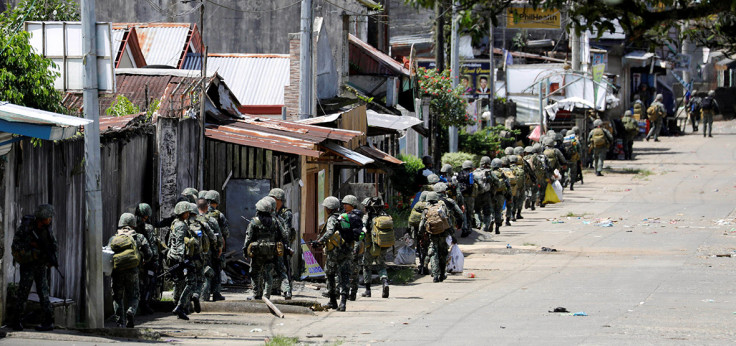 Malaysia arrested at least six suspects last week for their alleged links to the Isis. The country has apparently made about 250 arrests during a three-year period from 2013, according to the Strait Times.
"The Daesh threat cannot be solved by bombing certain countries into submission," Hishammuddin said, using the Arabic term for Isis.
Speaking at the security forum in Singapore, US Defense Chief James Mattis also highlighted the need to defeat "extremist groups" not only in Iraq and Syria, but also in Southeast Asia.