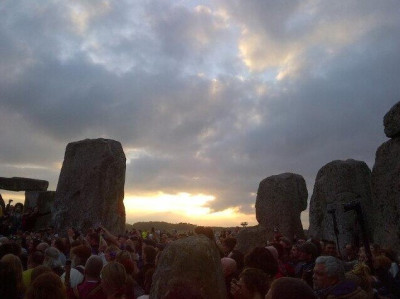 Over 20,000 people gathered at the ancient site of Stonehenge to celebrate the summer solstice.
Crowds spent the night at the Druid site in Wiltshire to see the sun set at 9.26pm and rise at 4.52am - marking the longest day of the year.
Matt Pullen, the superintendent of Wiltshire Police, said the night had been a triumph, despite the weather meaning no one was able to see the sun come up.
"Solstice 2013 has been a great success with approximately 21,000 people celebrating in the positive, friendly atmosphere as they waited for sunrise. The weather held but unfortunately the cloud cover was too dense to see the sun come up.
"This year there have been a lower number of arrests compared with previous years, 22 were taken into custody mainly in relation to drugs offences. The majority of people respected the conditions of entry and the amnesty bins provided were used.
"Approximately 70 Cannabis Street Warnings were issued. As with previous years, the passive drugs dogs proved very effective.
"The success of the event depends largely on the good nature of those attending and we are pleased that people could enjoy Solstice in the spirit of the event."
English Heritage also hailed the event was a success: "The atmosphere throughout the night was peaceful and good-natured with spontaneous drumming and cheering within the stone circle. English Heritage would like to thank everyone who made the solstice celebration possible.
"There was a beautiful sunset and the moon was clearly visible, however low cloud came in overnight, obscuring the sunrise."
This year's solstice comes as English Heritage prepares to begin a refurbishment project on the site. From 24 June, a section of the A344, which runs alongside the 4,000-year-old monument, will be permanently closed.
This will allow visitors to walk between the stone circle and the ancient avenue, where Neolithic people would have approached the monument from.
A visitor centre is also planned for the site and will include a café, shop and museum that looks at theories about Stonehenge.
Loraine Knowles, Stonehenge director at English Heritage, said: "When you are in Stonehenge in the future, when grass is established, you will be able to make the link between the monument and the rest of the heritage landscape to the north, accessing the avenue, the route by which the monument was approached when it was used as a place of great ceremony."