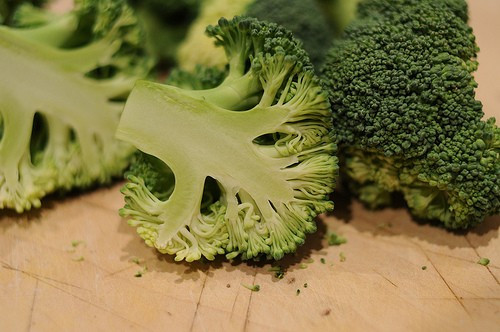 A new "superbrocoli" developed by British scientists to fight heart disease and cancer has gone on sale today in the UK.
The vegetable looks the same as normal broccoli but contains high levels of glucoraphanin, which may protect the body against heart disease and some types of cancer.
The new broccoli - called Beneforte - contains three times more glucoraphanin than regular broccoli. It will be sold at Marks & Spencer from Tuesday and will begin to appear in other supermarkets next year.
Beneforte was developed by using conventional breeding techniques rather than genetic engineering at the Institute of Food Research and John Innes Centre in Norwich. Work on the project began in 1983 after wild broccoli was discovered with raised levels of glucoraphanin.
The nutrient is converted in the gut into the bioactive compound sulphoraphane, which circulates in the bloodstream.
Evidence has indicated that sulphoraphane has beneficial effects such as reducing chronic inflammation, stopping uncontrolled cell division associated with early-stage cancer, and boosting the body's antioxidants.
Professor Richard Mithen, from the IFR, said: "Our research has given new insights into the role of broccoli and other similar vegetables in promoting health, and has shown how this understanding can lead to the development of potentially more nutritious varieties of our familiar vegetables.
"Now there will also be something brand new for consumers to eat as a result of the discoveries we have made."
The science minister, David Willetts, praised the "fantastic achievement" of the scientists.
He added: "This excellent work has led to the development of a highly commercial food product that will be both grown and sold in the UK, giving a real boost to agriculture, our personal health and the economy."