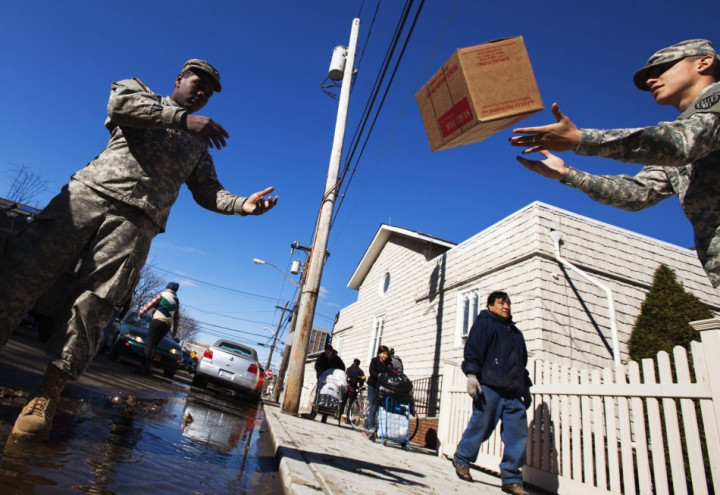 Nearly 40,000 people are in dire need of shelter in New York City alone due to the devastation caused by Superstorm Sandy, says the city's mayor Michael Bloomberg.
The authorities are looking for flats and hotel rooms to accommodate the homeless people while the temperature is near freezing point. The temperature is expected to dip lower in the coming days.
"We don't have a lot of empty housing in this city. It's a problem to find housing. We're not going to let anybody go sleeping in the street. But it's a challenge and we're working on this as fast as we can," said Bloomberg.
Addressing a joint news conference with Governor of New York State Andrew Cuomo and US Homeland Security Secretary Janet Napolitano, Bloomberg said although the 40,000 figure was kept at the highest, a realistic assessment of the homeless would be around 20,000
Cuomo said people are in homes that are uninhabitable as the heating systems in them do not work.
The authorities urged the people to leave houses without heating. "You can die from being cold. You can die from fires started when you use candles or stoves to heat your apartment. If you don't know where to go, stop a cop on the street and say, please tell me where to go. They'll help you. But we have to make sure that you are safe for a few days and that you have food and water for a few days," said Bloomberg.
Blankets are also being distributed to those who insist on staying inside their homes without heating.
More than 130,000 residents in New York City have not got their power supply back after the storm havoc. In New Jersey, the power supply has been knocked out for around a million people.
The situation is also likely to affect the presidential election on 6 November as dozens of polling stations have been affected.
Cuomo said the public transport would be under pressure as people are on their way back to normal life. Fuel shortages are being addressed.
Even as the region is limping back, it is bracing for the Nor'easter storm which is expected to strike later this week with heavy rain and speedy winds.