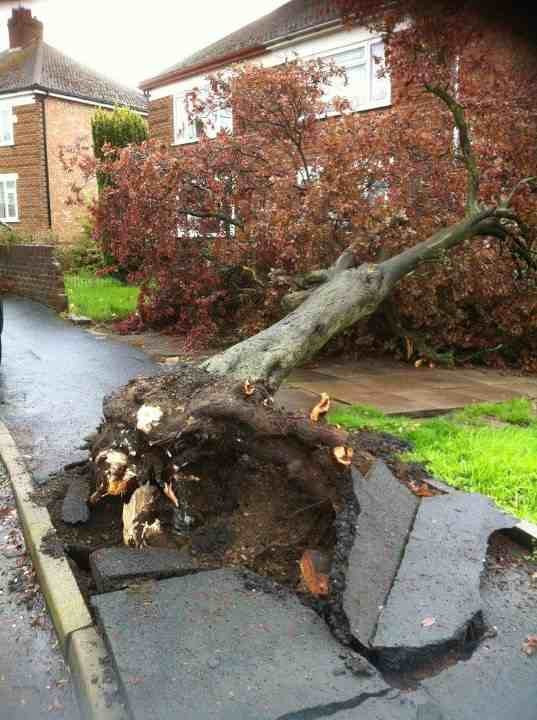 A suspected tornado tore a path through Rugby causing ripping up pavements and tress and damaging several homes in the Lawford Road and Bilton Road areas.
Unconfirmed reports are also claiming that cars have been moved by the freak weather and police are saying that it was amazing that nobody was hurt.
BBC weather presenter Ben Rich said: "We haven't verified yet whether it was a tornado but when you have very unstable air in a thunder storm it can become so unstable the air rises up very quickly and starts to spin.
"If that spinning column of air reaches the ground then you have a tornado."
Rugby resident Roy Mushing said he had gone to the shops to buy a lottery ticket when the tornado stuck.
"All of sudden there was this big gush of wind," he told the BBC.
"It bent the brolly up and spun me round and a good job it did because it spun me towards the bungalows where all the tiles was flying off the roof and flying into the main road."
Bill Lewis, also from Rugby, went to check on residents in a sheltered housing estate and spoke to some residents.
He said: "One or two others said they had had to hang on to lampposts to stop them being bowled over, so it must have been quite a force but it only lasted a few seconds apparently.
"It came from nowhere and then it just disappeared.
"The devastation it has caused is quite bad.
"One lady thought a house had been hit by lightning because there was such a bang.
He added: "When I got there, you could see there was tiles off the roof. The [residents] had already started sweeping up. There was quite a community feeling there, they had helped the elderly residents to get things sorted out."