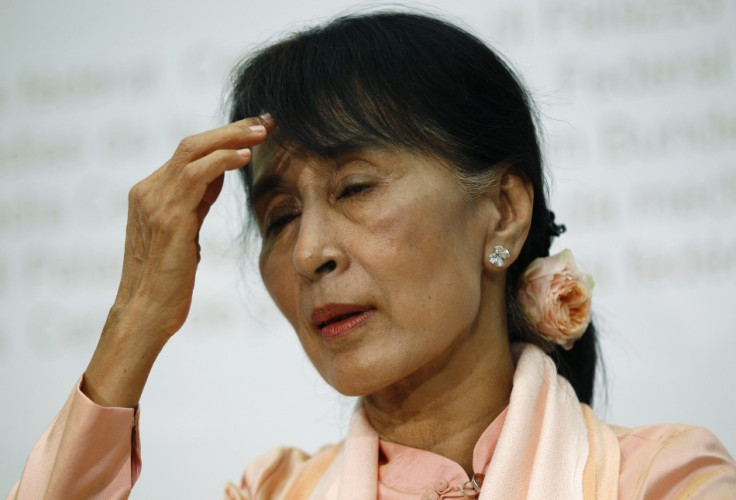 An exhausted Myanmar opposition leader Aung San Suu Kyi threw up during a press meet on the first day of her European tour.
Suu Kyi was reportedly exhausted and apologised for abruptly ending the press conference. She said she was not used to the time difference.
"Having stayed in one place for so long I found the plane journey out to the West extremely exhausting and a little bit disorienting, because I couldn't adjust to the new time as quickly as I might have 24 years ago. It may of course have something to do with age, it may have to do with lack of practice," Suu Kyi told reporters.
The pro-democracy leader was to attend a special dinner with Swiss officials on Thursday but cancelled it due to her illness.
This is Suu Kyi's first travel to Europe in nearly 24 years since she had spent most of the time in house arrest in her home country. It is not yet known whether her health status will affect the rest of her European tour.
Suu Kyi is on a landmark 17-day trip to Europe during which she will be accepting her much-awaited Nobel Peace prize after two decades in Oslo on Sunday.
The 66-year-old woman attended a UN-sponsored conference in Geneva on the first day of her trip which drew a huge applause.
"The international community is trying very hard to bring my country into it and it's up to our country to respond the right way. I would like to call for aid and investment that will strengthen the democratisation process by promoting social and economic progress that is beneficial to political reform," Suu Kyi said during the UN conference, reported the BBC.
The opposition leader will be visiting the UK, France, Ireland and Norway during her tour.