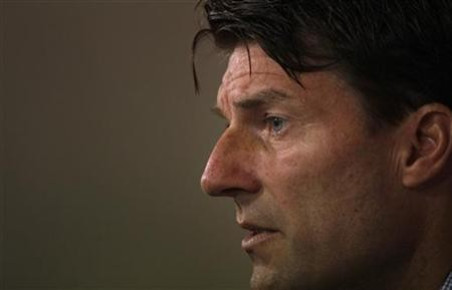 Signing Evaluation
After losing the architect of their success last season - Brendan Rodgers - it has been vitally important for new boss Michael Laurdrup to bring in his own players and introduce his style of football. An elegant footballer, the former Denmark international has so far signed Miquel Perez Cuesta or Michu as he is better known, and Jonathon de Guzman.
Both players arrive from Spain, a league Laudrup knows well, with Michu the man given the task of filling the sizeable boots of Gylfi Sigurdsson and scoring goals aplenty from midfield. De Guzman is another attacking midfielder who joins on-loan from recently relegated Villarreal. A former Dutch youth player he has bags of experience at the top level despite being just 24 - a talented player who Swans fans will enjoy watching.
Pre-season
Swansea have scored goals in pre-season and lots of them; five against Port Talbot, four against Blackpool, three against Stuttgart and two against San Jose. The only problem if they have conceded lots as well - seven goals in three matches to be precise. Things will need to tighten up at the back once the league campaign gets under way on Saturday.
Reasons Why They'll be Successful
Possession is ninth-tenths of the law - whatever that means. In football terms it relates to the fact that last season Swansea were able to control games with their neat and precise passing. Without Joe Allen this may have diminished slightly, but Leon Brittain was a revelation last season, while keeping Scott Sinclair, Ashley Williams and Michel Vorm has been key.
Reasons Why Not
Rodgers has taken Allen to Liverpool. Steven Caulker has returned to Spurs and Sigurdsson has joined him at White Hart Lane. Sinclair refuses to sign a new contract and Manchester City are said to be interested. They have a manager who struggled with Getafe, Spartak Moscow and Mallorca, plus it is the dreaded second season in the top flight. But the real problem lies in scoring goals as Danny Graham will find defenders have learned more about him, while Leroy Lita and Luke Moore have always struggled in the Premier League.
Expectations
Finishing 11th was a truly outstanding achievement. This season the priority will be to avoid relegation after losing their manager and numerous first team players. Laudrup will have his work cut out but safety for another season would be a triumph.
Prediction
20th - A miserable second season for all Swans fans as they suffer the same fate of Blackpool and are cruelly relegated in their second season in the top flight.