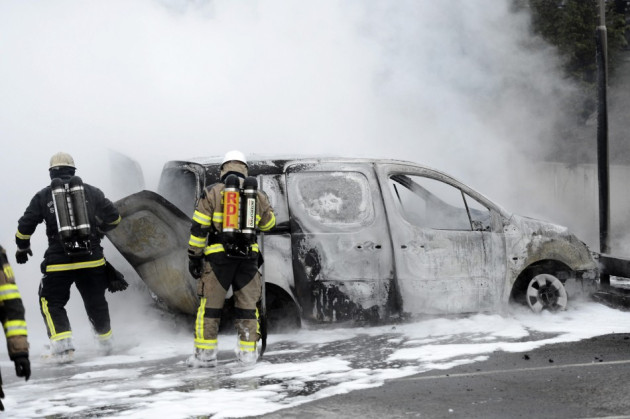 Rioting in Stockholm entered a sixth night on Friday as youths torched cars and ran rampage through the streets, with incidents of serious violence reported outside the capital for the first time.
A heavy police presence helped to keep a lid on the violence in the capital on Saturday, but 20 to 30 cars were still torched in the city's poorer suburbs, home to a large immigrant community.
Masked youths have taken to the streets all week, vandalising schools and police stations, starting fires and hurling stones at emergency services when they arrived, according to police.
However, last night may have witnessed signs of a calming of tensions, said police spokesman Kjell Lindgren.
"It was much calmer. Rocks weren't being thrown at police or firefighters,and that's a sign that it's calmer," said Lindgren.
"We have been present in many places. We've been talking to people, and many residents have been out in the city, keeping their eyes open, being engaged."
Community leaders increased their presence on the streets wearing high-visibility jackets and tried to restore order.
But outside the capital, in the town of Orebro, in central Sweden, around 25 masked youths set fire to a school and tried to burn down a police station.
About 200km to the southwest in Linkoping, vehicles were set on fire and youths tried to torch a school and a kindergarten.
The rioting broke out on May 13 when police fatally shot a 69-year-old man after storming his home following reports he had been threatening his wife with a machete.
Local media reports identified the dead man as a Portuguese immigrant, though police have not confirmed that.
The rioting has shocked the nation, damaging its reputation as a peaceful and humane society, known for its generous welfare system. Sharp divisions have also been exposed between Sweden's affluent middle class and a young restless underclass, often from an immigrant background, blighted by unemployment.
An anti-immigrant party rose to third in the polls this year, with analysts predicting the riots could boost its popularity. Dozens of nationalist thugs were seen driving around southern suburbs of Stockholm on Friday, watched by police.
The unrest echoes recent rioting in Paris and London, but milder by comparison, with no looting, few arrests and so far at least, minimal casualties.
A recent study revealed a third of young people aged 16 to 29 in deprived urban areas neither study nor have a job.
Much of the violence has occurred in areas where youth unemployment is high, in neighbourhoods populated by asylum seekers from Iraq, Somalia, Afghanistan and Latin America.
About 15% of Sweden's population is foreign-born. The gap between rich and poor in Sweden has grown faster than in any other major nation over the last two decades, according to the Organisation for Economic Cooperation and Development.