A group of happy swimming pigs have become a major tourist attraction on the Caribbean island of the Bahamas.
Pig Island is an uninhabited island in Big Major Cay on the archipelago of Exuma. The pigs are believed to have been put there by sailors who thought they would make a good food source, but they never returned.
Another theory is that the pigs were involved in a shipwreck and managed to swim to shore, while more cynical people believe they were put there as a tourist attraction.
However the pigs got to the paradise island, they learned to live in their new habitat - the island has fresh water springs and is sheltered by a group of neighbouring islands that protect it from tropical storms.
The pigs are also well fed - they have worked out that crews from passing yachts dump excess food into the sea, while tourists also help by offering them tasty treats.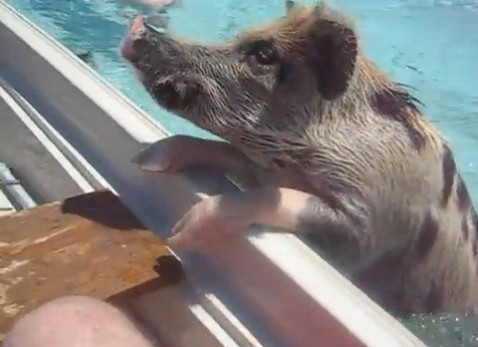 Tourist videos show the greedy pigs swimming out to greet them, ready for their dinner.
The swimming pigs have become a major attraction since they were discovered by underwater photographer Eric Cheng, who came across them during a diving expedition in 2007.
He said: "Because locals bring food, the pigs will run into the water and actually swim out to the oncoming boats, as if to greet them individually.
"It is strange enough to see pigs laying around on tropical beaches of white sand, but to see them then charge into the water to greet oncoming boats is just bizarre."
They were also documented by photographer and ocean guide Jim Abemethy, who told the Daily Mail: "Whenever I show my photos of these pigs people are just blown away.
"They uniquely live in complete harmony on their island paradise. They are surprisingly strong swimmers. Even the younger piglets are totally at home in the water. They're even happy to swim alongside people."
According to the Bahamas Tourism Office, swimming with the pigs has become very popular since stories of their existence were published on a number of news websites.
The office now runs trips to Pig Island and day excursions so people can join the animals in their unusual habitat.