As the race for the White House heats up, major party nominees Hillary Clinton and Donald Trump are looking to gain the upper hand over one another in a tight race. While the electorate will head to the polls on 8 November, early voting could account for 40% of votes cast nationally – up 35% from 2012.
While preliminary signs show early voting benefiting the Democratic nominee in the key states of Florida and North Carolina, IBTimes UK takes a look at the key battleground states where the US election could ultimately be won or lost. In total, there are as many as 11 swing states in the 2016 election.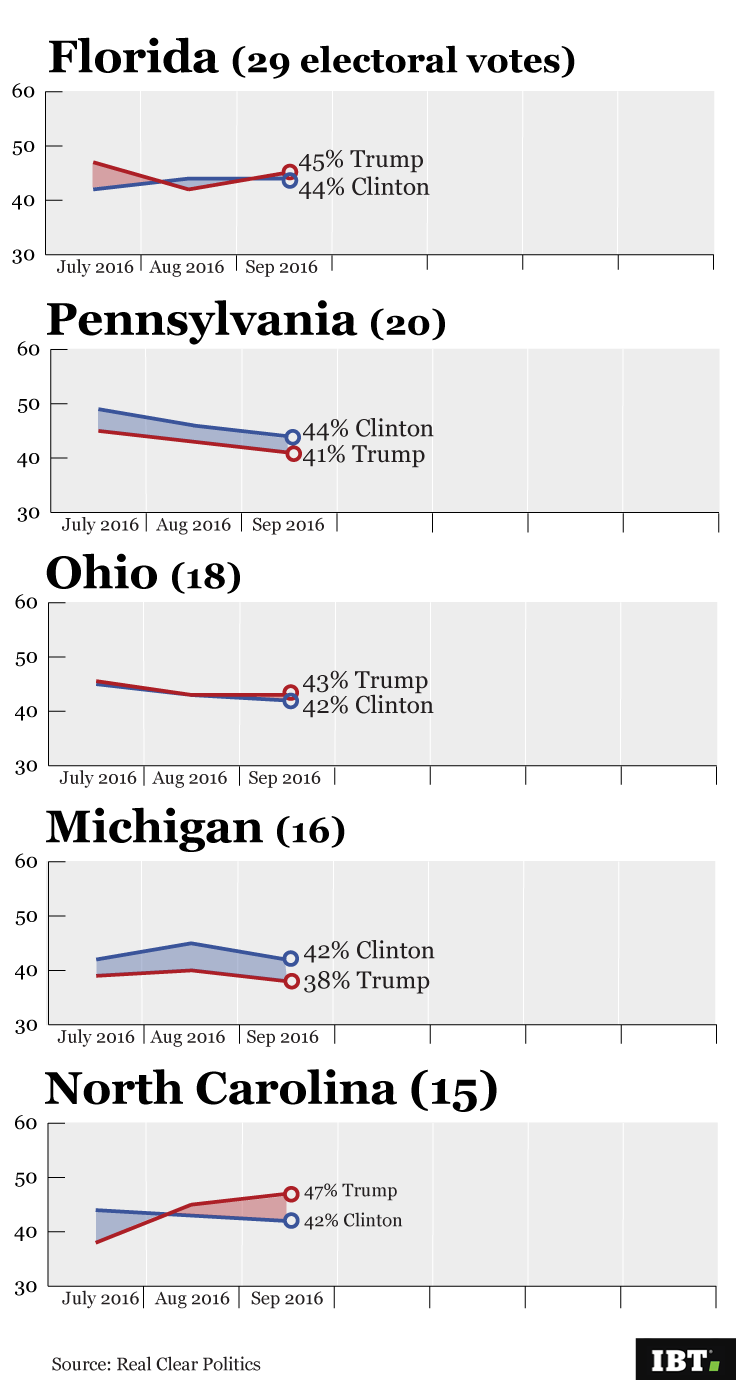 The swing states with the highest number of Electoral College votes are: Florida (29), Pennsylvania (20), Ohio (18), Michigan (16) and North Carolina (15). Inevitably, this means that advertising dollars and each nominee's gaze will be fixed firmly on these areas.
Florida has been at the heart of the tussle and is so difficult to predict that pollsters often get various outcomes from the very same data. The state boasts a large Latino population, which Trump has regularly taken shots at during campaigning, but the older population often opt for the Republican Party.
Cuban-American voters are crucial in Florida and the GOP nominee could face an uphill battle here following an investigative report by Newsweek (owned by IBTimes UK's parent company, IBT Media), which reported that Trump's company spent a minimum of $68,000 (£52,334) in the country in 1998, violating the US embargo.
However voters in the Sunshine State are leaning towards Trump, who is on 45% compared to Clinton's 44%, according to Real Clear Politics.
Pennsylvania has consistently favoured Democrats since 1992, with the last GOP victory coming in 1988. Clinton is on 44% compared to her rival's 41% and will be eyeing up a comfortable victory here.
Ohio's say in the presidential vote has mirrored the national average more closely than any other state. While the former industrial powerhouse is divided, the Buckeye State is leaning towards Trump over Clinton.
There is some daylight between the two candidates in the state of Michigan, which has voted blue since 1992. Trump is trying to make up ground here with his fifth visit to the Great Lake State since the Republican National Convention.
Clinton is looking to claw back North Carolina for the Democrats after President Barack Obama won there in 2008, followed by a loss four years later. Some 47% back Trump compared to Clinton's 42%.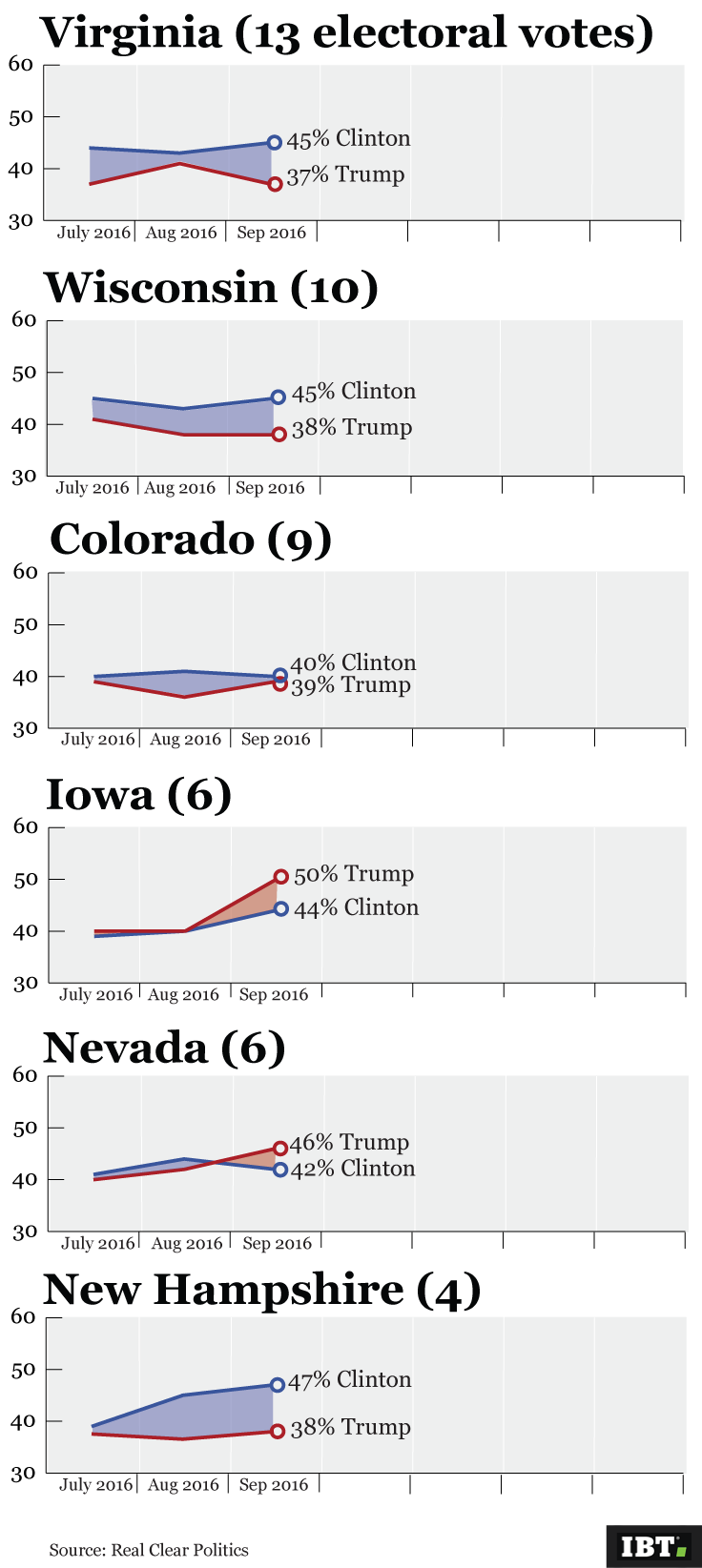 Other important battlegrounds that will decide the outcome of the presidential vote are Virginia (13), Wisconsin (10), Colorado (9), Iowa (6), Nevada (6) and New Hampshire (4).
The second presidential debate is scheduled to take place in St Louis, Missouri on 9 October. The candidates will face off for the third and final time on 19 October in Las Vegas, Nevada.