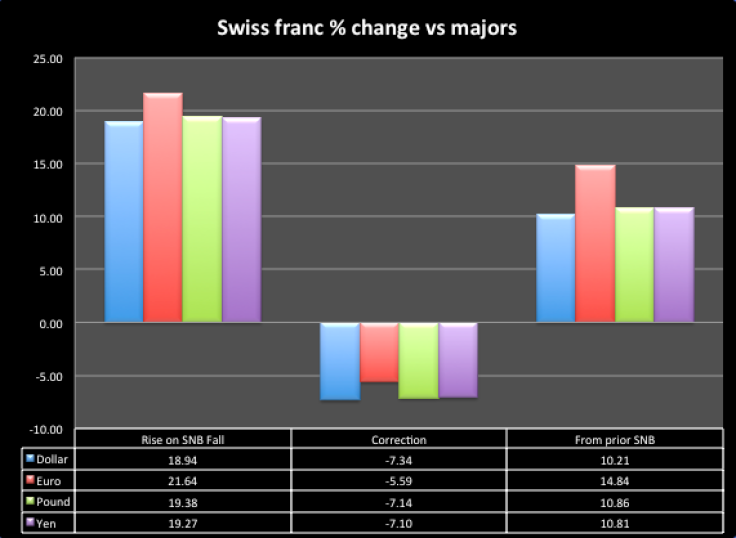 Major currencies that fell sharply against the Swiss franc on the surprise SNB move on 15 January have made decent comebacks within just two weeks. However, the euro has failed to match the pace of correction other units have achieved.
The franc had rallied close to 20% or even more against major currencies after the Swiss National Bank abandoned with the EUR/CHF floor two weeks ago as the market was bracing up for the 22 January ECB meeting.
The central bank was largely expected to expand its bond buying program in that meeting in order to stimulate the ailing eurozone economy, forcing the SNB to act proactively.
The ECB delivered as markets expected but the slide in the single currency was not so sharp as the move had been already priced in.
For the past seven sessions, the franc has been declining steadily across the board. From the strongest daily close after the SNB action, the dollar has corrected 7.34%, pound 7.14% and yen 7.10%, as of Thursday's weakest point. The correction against euro was just 5.6%.
The franc is still holding much of its strength versus majors, and with the highest margin against the euro. At its weakest on Thursday, the Swiss franc stood 10.21% up against the dollar, 10.86% against Sterling and 10.81% versus the yen.
Against the euro, the Swiss currency is still 14.84% stronger from where it had closed a day before the SNB action.