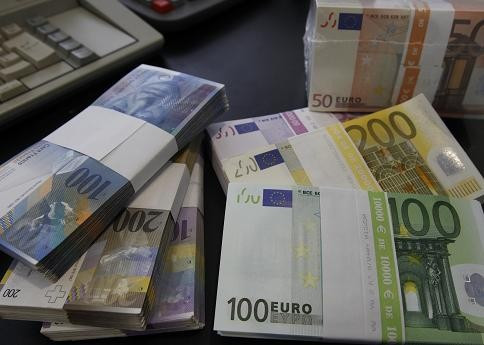 Switzerland's central bank is expected to hold its currency cap despite claims to drop it, as the turmoil in emerging markets is likely to drive up the currency.
The franc appreciated to 1.22 per euro earlier, as investors pulled their money out of emerging markets and invested in the safe-haven currency. In the first half of January, the franc plunged to a four month low of 1.24 against the euro.
"This highlights what the SNB has been saying all along, that the risks are still very prominent globally," Reuters quoted Reto Huenerwadel, an economist at UBS.
The news agency added that turbulence across emerging markets has increased appetite for safe-haven currencies like the franc.
The asset sell-off in emerging markets in line with the US Federal Reserve's decision to accelerate the speed of its stimulus tapering has prompted policymakers in countries across the globe to be cautious, and the Swiss National Bank (SNB) was no exception.
The central bank pointed out that global economic recovery remains fragile, and that the volatility in global financial markets will be a key risk to the Swiss economy.
Thomas Jordan, the central bank's chairman, said 5 February the bank would will keep the currency cap in place for as long as necessary to ensure appropriate monetary conditions.
"It is a minimum exchange rate that at the moment guarantees adequate monetary conditions for Switzerland," he said.
"It will be in place as long as necessary."
Currency Cap
Switzerland introduced its 1.20 francs per euro cap in 2011 in order to protect the Swiss economy from deflation and recession. During the eurozone crisis, investors were fleeing the single-currency region and bidding on the Swiss currency to record levels.
The recent signs of recovery in the eurozone and in Switzerland have raised speculations that the country would drop the cap soon.
European Central Bank President Mario Draghi noted that there are encouraging signals of an economic recovery in the euro area, but the recovery is still "weak and uneven".
In Switzerland, an economic recovery is already underway. The country raised its full-year 2013 growth target to 1.9% in December, and expects a 2.7% growth in 2015.
The country which has been suffering from deflation saw a 0.1% year-on-year increase in prices in November for the first time in two years.
Despite the recovery, the SNB's vice-chairman said the central bank would not avoid the cap in the near future, and is looking for further signs of growth.