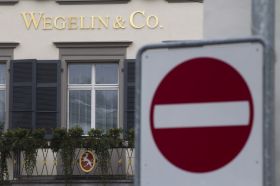 Switzerland's oldest private bank Wegelin & Co. will end its operations after it admitted that it had helped Americans to evade taxes.
Established in 1971, the bank will pay $57.8m (£36m, €44m) in fines to US authorities after pleading guilty in a New York court for helping more than 100 American citizens to hide $1.2bn from the Internal Revenue Service (IRS) for almost 10 years.
Wegelin will pay $20m in restitution, $15.8m in forfeiture of fees the bank collected from clients, and a $22m fine, which is subject to the approval by the judge. The bank was forfeited more than $16.2m in April.
"Once the matter is finally concluded, Wegelin will cease to operate as a bank," the bank said.
"The bank wilfully and aggressively jumped in to fill a void that was left when other Swiss banks abandoned the practice due to pressure from U.S. law enforcement," said US Attorney Preet Bharara, who also accused that the bank became a haven for US taxpayers looking to evade taxes.
The St. Gallen-based bank is the latest to reach a deal with US prosecutors as they try to identify citizens keeping their money in secret accounts overseas and the entities which helped them. The authorities are also investigating several Swiss banks, including Julius Baer and Credit Suisse, in connection with tax evasion by citizens.
It is also the first bank to plead guilty to a criminal charge in the government's probe. It was charged in February, a week after its deal to sell its non-US business to Swiss co-operating banking group Raiffeisen.
"Wegelin intentionally opened and maintained non W-9 accounts for these taxpayers with the knowledge that, by doing so, Wegelin was assisting these taxpayers in violating their legal duties. Wegelin was aware that this conduct was wrong," said Otto Bruderer, a managing partner of Wegelin, appeared in the US court on behalf of the bank.
Meanwhile, prosecutors accused the bank of creating sham foundations or code names for the accounts to disguise owners' identity and of taking steps to snatch business from rival UBS, which was under investigation.