Surfers catching waves at Manly Beach, sunbathers sprawled on the sand at Shelly Beach, a determined lone swimmer doing laps in an ocean pool, yachts moored on a glittering translucent sea... It's autumn in Sydney, but you wouldn't know it from these aerial photos, taken from a blimp.
Getty Images photographer Cameron Spencer boarded the Appliances Online blimp and flew quietly over Australia's largest city, capturing familiar landmarks such as the Sydney Opera House and Harbour Bridge, as well as a few Australians enjoying the great outdoors.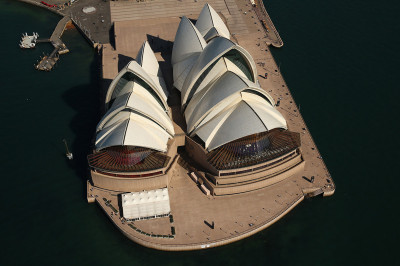 The Appliances Online Legend Blimp is the only airship currently operating in the Southern Hemisphere. It is 11 metres wide, 13.4 metres tall, and 39 metres long (approximately the length of three buses). It is filled with enough helium to fill up 136,000 party balloons.
Its two engines use less fuel in two weeks of operation than a 747 uses to taxi to the end of the runway for take-off. The airship's usual maximum speed is 45mph (72km/h), though it has reached speeds of 57mph with a tail wind.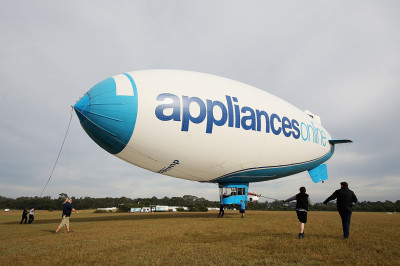 The blimp is never deflated, and the 13-strong crew includes two qualified pilots, two licensed aviation mechanics, a crew chief and a clerk, as well as ground staff that includes watch keepers and ground crew. Its stability and slow-cruising speed make it perfect for capturing amazing aerial photography and video footage.