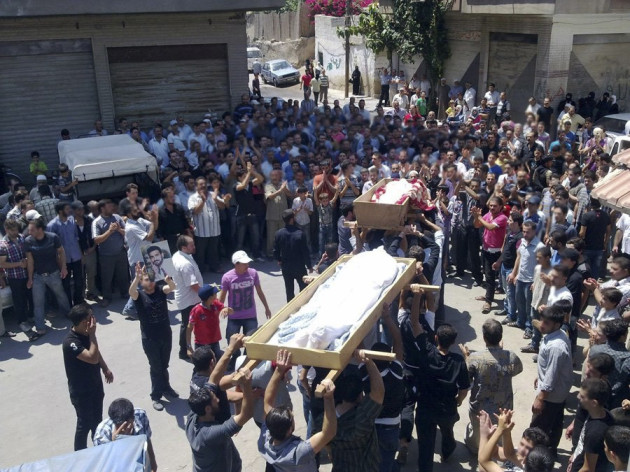 Clashes across Syria have escalated in the wake of the defection of the country's prime minister Riyad Hijab.
Forces loyal to President Bashar al-Assad have reportedly regained control of the Syrian capital, Damascus, after using heavy weapons against the rebels.
In Aleppo, Syria's second city, state media claims that the rebels tried to storm a thermal plant but met fierce resistance, with 25 "terrorists" killed in the fighting.
The loyalist troops have also gunned down several rooftop snipers, inflicting major losses on their opponents.
According to the UK-based Syrian Observatory of Human Rights, up to 150 people, nearly 100 of them civilians, have been killed across Syria in the latest round of fighting.
Opposition activists have uploaded videos to demonstrate the ferocity of the violence, although the precise source of the footage is unverified.
'Civilians must not be subjected to shelling'
The new head of the United Nations observation mission in Syria, Lieutenant General Babacar Gaye, says he is "extremely concerned about the continued violence in Syria, in particular the significant deterioration in Aleppo and its impact on the civilian population.
"I urge the parties to protect civilians and respect their obligations under international humanitarian law. Civilians must not be subjected to shelling and use of heavy weapons."
Meanwhile, the White House has welcomed the defection of Hijab, who was appointed prime minister in June 2012. US President Barack Obama's spokesperson said the decision demonstrates that Assad's regime is crumbling.
However experts suggest the defection may not be a fatal blow for the regime, as Hijab was never a part of Assad's inner circle.
"All indications are that Hijab was probably kept in the dark. This wasn't a man who had Assad's ear - Assad appointed him just a few months ago. He was essentially just another cabinet member without much power at all," David Hartwell, a senior analyst of Islamic Affairs at IHS Jane's, told CNN.