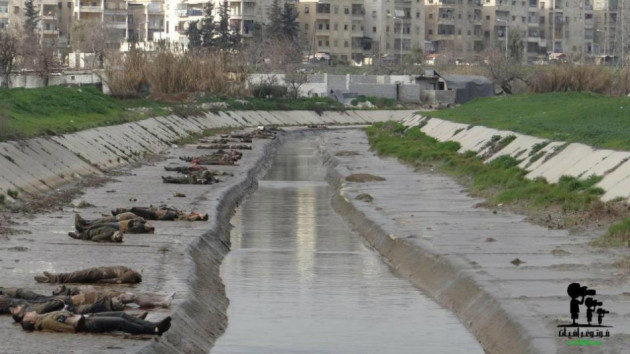 The bodies of 65 men who had been executed have been found dumped on a riverbank in the Syrian city of Aleppo.
A video, released by the London-based Syrian Observatory for Human Rights, shows corpses laid out along the banks of the River Quweiq. The men were aged between 20 and 30 and were killed by a bullet to the head. Several had their hands tied.
The observatory said the find was evidence of a "new massacre" and said the death toll could rise as high as 80. It was not clear who carried out the killings.
The development came after rebels in Syria captured a security agency building in the eastern city of Deir al-Zor after days of clashes with government forces.
A video posted on YouTube showed armed men cheering as they stood outside the building.
Some belonged to the al-Nusra front, which has been designated a terrorist organisation by the US for its ties with al-Qaida.
The observatory said the fighters had freed prisoners from the building.
"This was after violent clashes for a number of days," the human rights observers said.