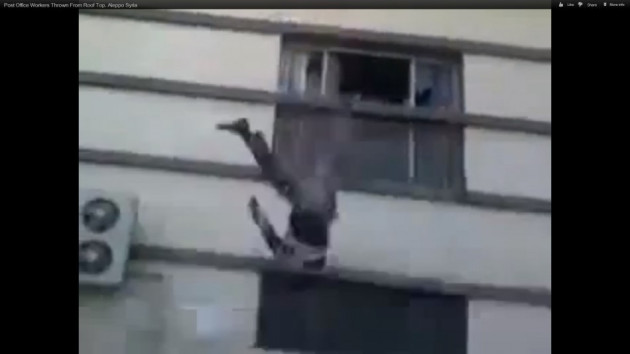 A graphic video purportedly showing Syrian rebels hurling the bodies of post office workers off a roof have emerged on YouTube.
As the Syrian civil war plumbs news depths of savagery, the footage, said to have been shot in Aleppo, shows an angry crowd shouting Allahu Akbar (God is the greatest) gathering around several corpses on the ground. As they mass, three more victims are shown being thrown from the top of the building.
The incident is believed to have taken place in the rebel-controlled Al-Bab area and the victims were identified as postal workers, AFP reported.
As the body of one man was hurled to the ground, the crowd is heard shouting: "This is a Shabiha," referring to the pro-government militia.
The London-based Syrian Observatory for Human Rights (SOHR) said it condemned the perpetrators - whichever side of the war they were on.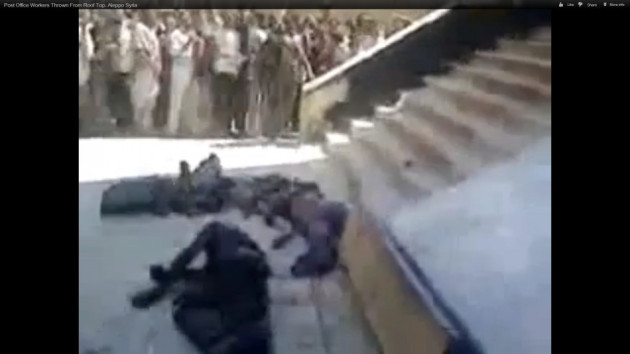 The opposition said pro-government militia had executed 10 civilians in a raid in the flashpoint central city of Homs.
The Arab League has postponed a meeting in Saudi Arabia to find a replacement for outgoing international envoy Kofi Annan.
Aleppo was still in the grip of fierce fighting and the SOHR said Assad's troops were shelling rebel-held districts.
"Communications have been cut off in Aleppo as well as large areas of the province," the group said.
In another development, a Syrian diplomat working at the UN in Geneva has defected for the country's opposition.
Rolando Gomez, spokesman for the UN Human Rights Council, identified the defector as Danny al-Baaj, and described him as a junior member of the country's UN mission.