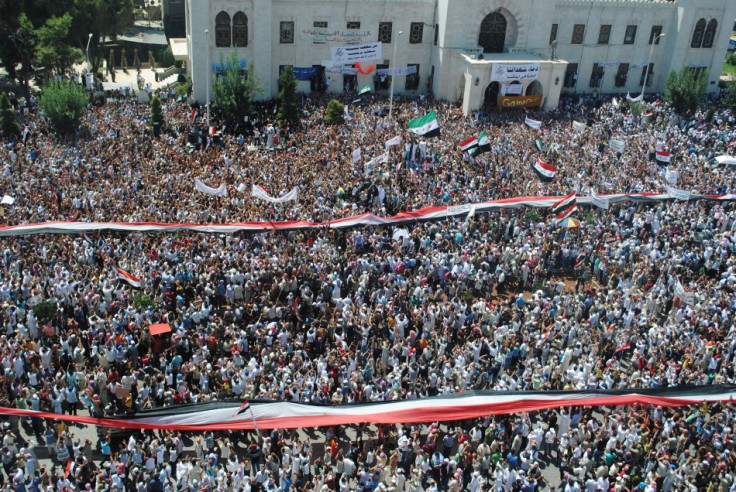 Showing that members of the Security Council are still divided over whether or not the United Nations need to take a stronger stand following the situation in Syria, discussions have yet failed to produce any clear legal instrument.
The talks, at the 15-member Security Council in New York ended inconclusively on Tuesday and are now due to resume as Syrian security forces maintain their bloody siege of the city of Hama and have been waging a war against protesters since the beginning of the protests demanding for President Assad to step down.
Despite Ban Ki Moon repeated condemnations of the Syrian President and an international outcry after rights groups reported than an estimated 140 people have died in Hama since Sunday, the council has been unable to agree on the wording of its response.
Russia, China and others are pitted against the US and its EU allies and have wowed to avoid allowing for a Libya-style operation in Syria. Both powers insist the military and NATO-led operation supporting the rebels will not help solve Libya's problems. They have also firmly stood against the NATO bombing campaign of Tripoli and have threatened to veto a UN resolution on Syria.
Russia, which on Monday seemed to become less tolerant of Assad's behaviour and
condemned "the use of force against peaceful protesters" and urged restraint, indicated on Tuesday that tensions among the Security Council are still running high after Russian UN envoy Vitaly Churkin declared that the latest wording put forward by Western members was "detrimental" to peace efforts.
"It is no secret that our Western colleagues believe that Damascus and the Syrian government are to blame for everything..." he said on Russian TV.
"There are a number of other members of the Security Council, Russia among them, who see the situation as more complicated."
Vassilly said he believed the Security Council should "do its utmost to encourage all sides in Syria to hold a dialogue" on ending the crisis.
Officials from China also stated in July that sanctions and embargo do not help resolve conflicts, insisting that communication and diplomatic efforts should instead be prioritised.
Brazil, India and South Africa also oppose action by the council on Syria, saying they also fear a new international military involvement similar to the one in Libya.
The UK, France, Germany, Portugal and the U.S., on the other hand have been trying to get a resolution passed for two months insisting that a formal UN resolution is the best way to send a strong signal to Mr Assad.
Trying to convince their reluctant counter-part that a resolution on Syria wouls not lead to foreign intervention, William Hague the UK Foreign Secretary said last week that a military operation was not even a remote possibility.
Meanwhile, a number of U.S. senators, both Democrat and Republican, are calling for new American sanctions that would punish companies which invest in Syria's energy sector and Secretary of State Hillary Clinton received U.S.-based Syrian opposition activists for the first time on Tuesday, proving that despite international division, Washington is willing to take the lead against Assad.
While discussions in New York are still under way, so is the Syrian regime's assault on the civilians as new reports suggesting that tanks entered Hama on Wednesday morning after new shelling, emerged this morning.
The Associated Press news agency quoted Rami Abdul-Rahman, head of the London-based Syrian Observatory for Human Rights, as saying columns of tanks could be seen snaking towards the city of 800,000.
Reports also suggest that communication with the city is completely cut off, along with water and electricity, according to the BBC.
The civilian death toll in the protests, which began in March against the rule of President Bashar al-Assad, is now believed to have reached 1,600.
While Assad has for month promised reforms and blamed violence "armed gangs" backed by western foreign powers, anti-regime protesters have insisted they will not stop until their leader is ousted as the government they say has lost its legitimacy.
Access to events in Syria has been severely restricted for international journalists and it is rarely possible to verify accounts by witnesses and activists, but activist have warned the country could slip into civil war, as the opposition is not homogenous but divided, with one of the main rallying point being Assad's demise.
Factions could thus start fighting each other as they struggle for power and more political space.
Also as anger grips the protesters and their relation with the security forces becomes more and more violent,, many fear, protesters, which have until now mainly held peaceful demonstrations could start arming themselves, to fight off the government's forces violent attacks.
Despite divisions, the UN now needs to act as its credibility depends on it. The operation in Libya has been widely criticised by rights group, but leaders insisted they will not tolerate heads of state killing their own people, which the Syrian regime has been accused of doing for months. Repression should not be met by impunity and the Security Council needs to prove that it is able to overcome political divisions in the name of international good and justice.