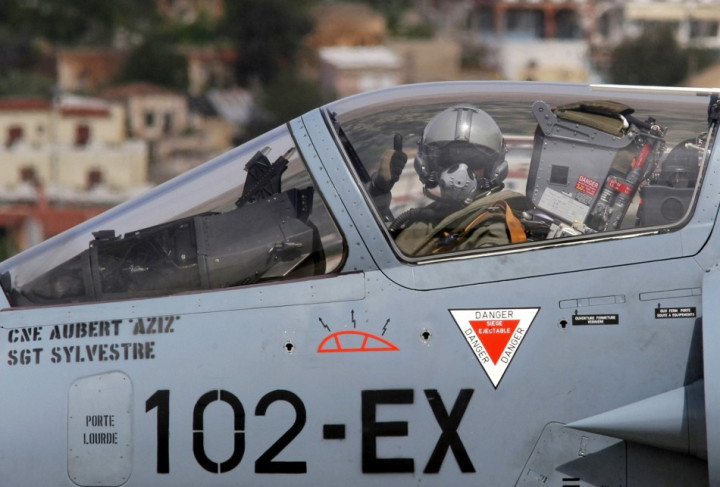 Washington has asked Greece for permission to use its military bases in Kalamata and Souda for a possible strike on Syria over the alleged use of toxic gas in Ghouta on the eastern outskirts of Damascus.
The two bases in Peloponnesus and on Crete would be used by the American air force and navy for transportation purposes. The Greek government has given the green light but stated that it will not take part in any direct military action in Syria for fear of reprisals.
According to reports, the US authorities are reluctant to use Turkish military bases because of Ankara's strong support for the Assad opposition.
A buildup of warplanes and military transporters has been reported at the British airbase at Akrotiri in Cyprus, less than 100 miles from Syria.
C-130 transport planes were spotted by two commercial pilots and the airbase has been much busier than normal, according to the Guardian.
US president Barack Obama has rallied his national security team to finalise a declassified report to be prepared for public release before any military strike takes place. The report is due to be released in a day or two according to CBS.
The director of National Intelligence James Clapper led a three-hour meeting to go through evidence of the chemical weapon attack in Ghouta. White House lawyers are preparing legal justification for a military strike outside the UN Security Council remit, with a focus on alleged violations of the Geneva Convention and the Chemical Weapons Convention.
Four UN Navy warships are already in the eastern Mediteranean and could fire Cruise missiles within hours of receiving the green light from Obama.
He is reportedly thinking of a one-off military strike with limited scope and duration, aimed at punishing the Syrian regime and deterring it from using chemical weapons again.
The attack, which would last no more than two days and involve sea-launched Cruise missiles, would target military facilities not directly related to Syria's chemical weapons arsenal.
The weapons would be fired in the middle of the night when most civilians would be off the street.
Kerry said that evidence gathered by UN inspectors in Syria was not necessary to prove the use of chemical weapons in the country as it is "grounded in facts, informed by conscience and guided by common sense".
READ:
Ghouta Syria Gas Attack: David Cameron Recalls Parliament on Twitter
Ghouta Massacre: Syria will Become 'Another Vietnam' if West Attacks [VIDEO]

European Markets Down as Syria War and US Debt Fears Mount
Asian Markets Choppy on Syria War Fears
Syria Opposition Calls Off Geneva Peace Talks as Russia Warns US Over Strike
Syria: UN Inspectors Convoy Hit by Sniper Fire on Ghouta Mission
Syria: Assad's Army Officers 'Unaware' of Rockets Loaded with Toxic Gas in Ghouta Attacks
Syria: Strike Against Assad 'Within International Law' Says William Hague
Syria: Western Chemical Weapons Experts Cast Doubt on Obama Nerve Gas Claims
Medecins Sans Frontieres Confirms Syria Chemical Deaths