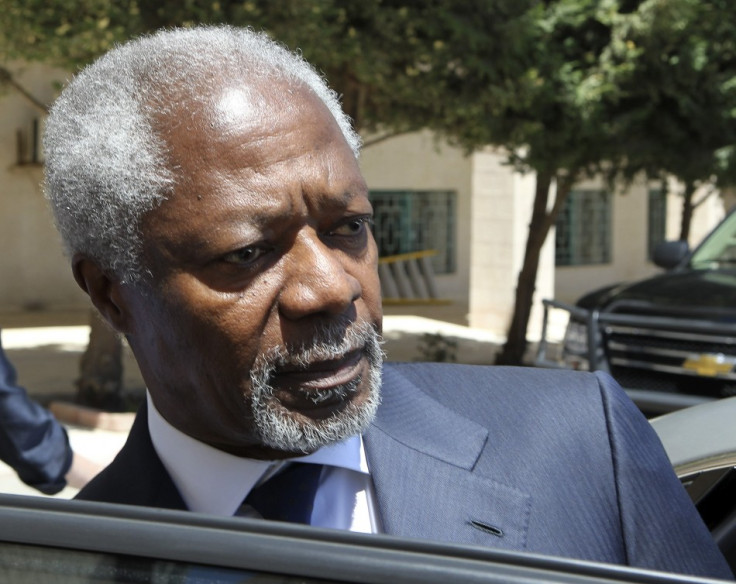 The Syrian government has released 500 political detainees in an attempt to show a commitment to Kofi Annan's plan to end violence.
"Five hundred people involved in the events taking place in Syria, without blood on their hands, have been released," a newsflash on state TV read, Reuters reports.
However, activists reported that Syrian troops were shelling the city of Houla where 108 people, including 49 children under 10, were killed, mostly in summary killings by the feared Shabiha militia.
The British-based Syrian Observatory for Human Rights and the local Coordination Committees activist groups said heavy machineguns were being used by militia in the same area where the massacre took place.
Meanwhile, the head of the Free Syrian Army has denied that his forces have issued a deadline to the Syrian government.
Earlier, Col Qassim Saadeddine gave Assad a 48-hour deadline to abide by Annan's plan.
"The joint leadership of the Free Army inside Syria announces that it is giving the regime a final 48-hour deadline to implement the resolutions of the UN security council," the colonel said in a statement. "It ends on Friday at 1200 [1000 BST]; then we are free from any commitment and we will defend and protect the civilians, their villages and their cities."
Russia has pledged to block any UN support for foreign military intervention in Syria despite Western efforts.
"We have always said that we are categorically against any intervention in the Syrian conflict from the outside, as this would only worsen the situation and would lead to unpredictable consequiences both for Syria itself and the region on the whole, " Russia's deputy foreign minister Gennady Gatilov said, adding that the UN security council pressure on Syria was "premature".
The US insists it is close to making a deal with Russia to oust Assad, with deputy national security adviser telling the US Islamic World Forum in Doha, Qatar that "we are making progress".
"We don't believe it's in the Russians' interest to be associated with the Assad regime," he claimed.
Kofi Annan left Damascus amid reports of fresh atrocities in the ground, such as the discovery of 13 bodies near Deir al-Zor. The men were summarily executed as they were found with their hands tied and some appeared to have been shot in the head.
General Robert Mood, head of the UN monitors, called it an "appalling and inexcusable act".
The fourth point of Annan's six-point plan urged the Syrian government to "intensify the pace and scale of release of arbitrarily detained persons, including especially vulnerable categories of persons, and persons involved in peaceful political activities, provide without delay through appropriate channels a list of all places in which such persons are being detained, immediately begin organizing access to such locations and through appropriate channels respond promptly to all written requests for information, access or release regarding such persons."