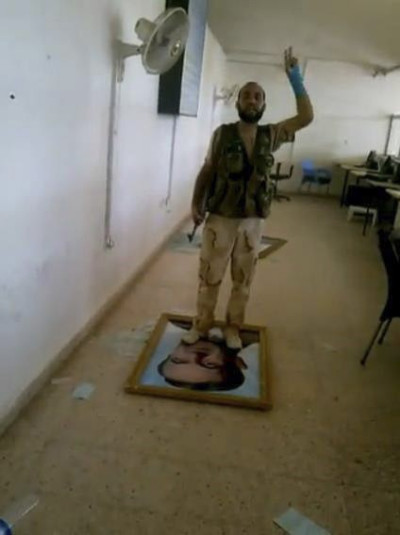 Syria's rebel forces have taken control of the country's key border crossings into Iraq and Turkey, after the bloodiest day of fighting in the civil war thus far.
A senior Iraqi official told the New York Times that all four of the country's crossings into Syria have now been closed, because the rebels have seized the Syrian sides of them. Iraqi troops also claim that the Free Syrian Army (FSA) executed dozens of Syrian soldiers while commandering the checkpoints.
Iraq is currently drafting in extra troops to ensure the rebels don't cross onto Iraqi soil. Qassam al-Dulaimi, a brigadier general in the Iraqi Army, said:
"We have security concerns because the border crossing now is out of the Syria government's control, and nobody can anticipate what will happen."
The FSA has also seized control of two checkpoints on the Turkish border, Bab al-Hawa and Jarablus, following a coordinated campaign to seize control of Syria's external boundaries.
Regime on the run
It is also reported that President Bashar al-Assad has retreated to the coastal city of Latakia, while his wife Asma has fled to Russia, following the explosion which killed three senior government officials in Damascus on 18 July.
"Our information is that he [Assad] is at his palace in Latakia, and that he may have been there for days," Reuters quoted an unnamed senior opposition leader as saying.
Assad appeared on state television for a brief period on Thursday, although the location and the timing of the footage were not clear. He appeared along with the new defence minister Fahad Jassim al-Freij at a formal swearing-in ceremony, following the death of the previous defence chief in the Damascus explosion.
It has been widely speculated that Assad might seek political asylum with Russia. The country is a long-standing ally of Syria, and recently used its veto in the UN security council to block sanctions against Assad.
Battle for the capital
Fighting continues in Damascus, which has been the scene of fierce battles since 15 July.
Syrian forces have been unable to gain the upper hand in Damascus, even after using helicopters and artillery. In some satellite towns around the capital, including Tel and Dumair, government forces have reportedly withdrawn after coming under heavy attacks.
It is also reported that pro-Assad troops are telling civilians in the southern part of Damascus to flee for their lives, before they begin shelling the area.
"They threatened them and gave them 24 hours to leave their homes, or they will be shelled," said activist Ali Salem, quoted in the New York Times.
Another activist, based in the old quarter of Qanawat, told Reuters that the city's police headquarters has been abandoned after being burned and looted by the rebels.
Abu Rateb said that "three patrol cars came to the site and were hit by roadside bombs. I saw three bodies in one car. Others said dozens of security men and shabbiha (pro-Assad militia) lay dead or wounded along Khaled bin al-Walid street, before ambulances took them away,"