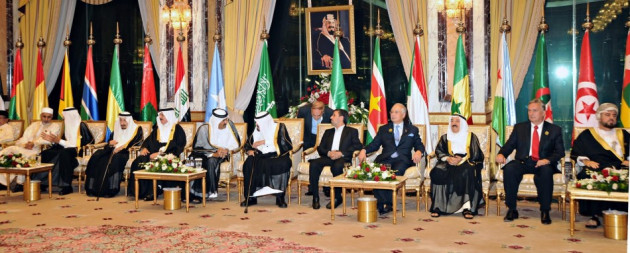 Syria is likely to lose its membership of the Organisation of Islamic Cooperation (OIC) despite strong support from its key ally Iran.
Syria's membership is expected to be suspended by the OIC, a pan-Islamic body designed to promote Muslim solidarity on key political issues, during an extraordinary summit in Mecca.
The two-day summit has been called specifically to discuss the conflict in Syria, which will not be attending.
Leaders of Islamic nations require at least a two-thirds majority to oust Syria, which is locked in a protracted civil war pitting President Bashar al-Assad's government forces against a plethora of rebel groups.
The proposed expulsion will mount pressure on the Assad regime to bring its conflict with the rebels to a close.
Saudi-Iran reconciliation?
Saudi Arabia and Iran, two of the most prominent members of the OIC, have long been in dispute over Syria, with Riyadh backing the rebels while Tehran maintains support for Assad's regime.
Given that Saudi Arabia shares the rebels' adherence to the Sunni denomination of Islam, while Iran's rulers, like Assad's government, are Shias, many commentators believe the rift is sectarian in nature.
However, reports suggest that Saudi King Abdullah has asked Iranian president Mahmoud Ahmadinejad to sit beside him during the OIC summit - suggesting both parties are attempting to reconcile their differences.
"It was a message to the Iranian nation and, I assume, to the Saudi people, that we are Muslim and we have to work together and forget about our differences," Saudi political analyst Abdullah al-Shammari told Reuters.
Rashad Hussain, a US diplomat, will participate as an observer in the summit and also hold separate meetings with top officials, in the hope of demonstrating that the US is keen on solving the Syrian crisis. The US has maintained that Iran has been helping Syria in training its forces.