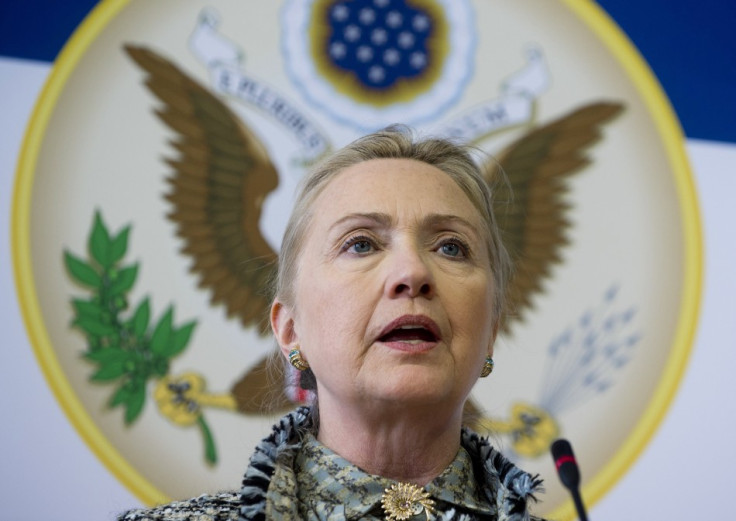 The Chinese foreign ministry on Saturday snubbed the US for its criticism at the Friends of Syria meeting in Paris that China was "holding up progress" in Syria.
The ministry spokesperson responded in strong words saying the US remarks were "totally unacceptable."
"China is not impeding the process of resolving the Syrian issues. On the contrary, China has made an important contribution to safeguarding the UN Charter, the basic norms governing international relations, the peace and stability of the region and the fundamental interests of the Syrian people as well as pursuing a political solution to the Syrian issues," Foreign Ministry Spokesperson Liu Weimin was quoted by Xinhua as saying during his regular press conference.
On Friday, US Secretary of State Hillary Clinton made a statement saying the situation would change "if every nation represented here directly and urgently makes it clear that Russia and China will pay a price because they are holding up progress - blockading it." Clinton was addressing a meeting in Paris which was attended by representatives from around 100 countries.
Both Russia and China did not participate in the conference. The two countries have been staunch supporters of Syrian President Bashar al-Assad and want him to remain in power while the western nations spearheaded by the US are keen to oust him. China and Russia have previously vetoed international resolutions which insisted on taking severe action against the Syrian regime.
Russia also responded immediately to Clinton's statements saying they were incorrect.
Liu went on to say that China's fair and constructive stance towards the Syrian issue on the diplomatic front had broadened the understanding of relevant parties in the international community.
"Any words and deeds that slander China and sow discord between China and other countries will be in vain," Liu said, according to Reuters.
The spokesperson referred to China's important role at the 30 June Geneva meeting of foreign ministers of world powers. At that meeting, called by UN and Arab League Special Envoy Kofi Annan, the foreign ministers pledged to bring in a transitional interim government in Syria which included representatives from both pro and anti-government forces.