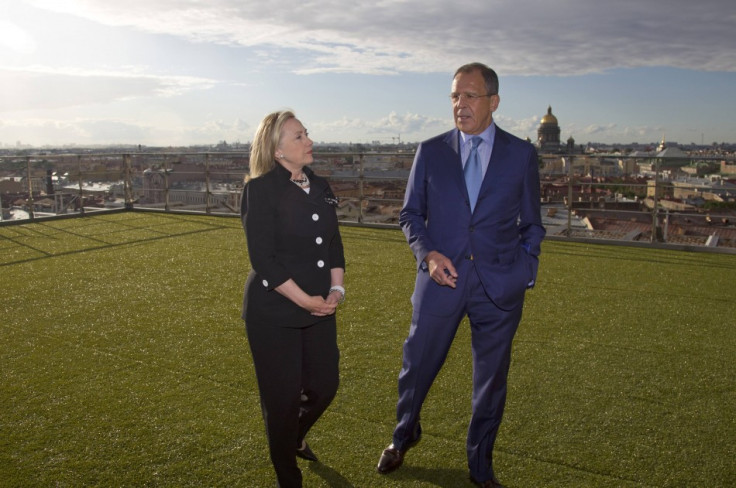 As representatives from world powers are set to meet in Geneva to discuss the Syria crisis, Moscow and Washington continue to lock horns over the steps to be taken.
Although both sides tried to play down differences, the spilt was wide open. US Secretary of State Hillary Clinton and the Russian foreign minister had a meeting before the talks and are seemingly hopeful of a positive outcome from Geneva.
However a US state department official was careful in choosing his words: "There are still areas of difficulty and difference. We may get there, we may not," reported the BBC.
"Our western partners want to decide the outcome of the political process in Syria themselves, even though it is a job for the Syrians," tweeted Gennady Gatilov, Deputy Foreign Minister of Russia, after the talks.
UN and Arab League special envoy Kofi Annan's idea of bringing in an interim transition government is likely to dominate the talks on Saturday. The meeting has been called by Annan to establish a roadmap to usher in political transition in Syria.
Moscow sticks to its stand against the removal of President Bashar al-Assad while Washington insists that Assad should go.
Representatives from the permanent UN Security Council members the US, the UK, France, Russia and China will be attending the talks along with the foreign ministers of Iraq, Kuwait and Qatar of the Arab League.
Reports suggest officials from both Iran and Saudi Arabia have also invited for Saturday's talks.
Annan is confident there will be an appropriate outcome from the Geneva talks but the political cloud over the issue suggests otherwise.
Meanwhile, the Syrian president made it clear that external interference in Syrian matters would not go down well with the regime, as Assad made it clear that he was keen on resolving political issues internally.
Amid the flurry of diplomatic activity, Syrian bloodshed does not seem to cease. Reports from the region suggest violence which took place on Thursday and Friday killed dozens of civilians.
According to various estimates, more than 100 people have been killed in the attacks.