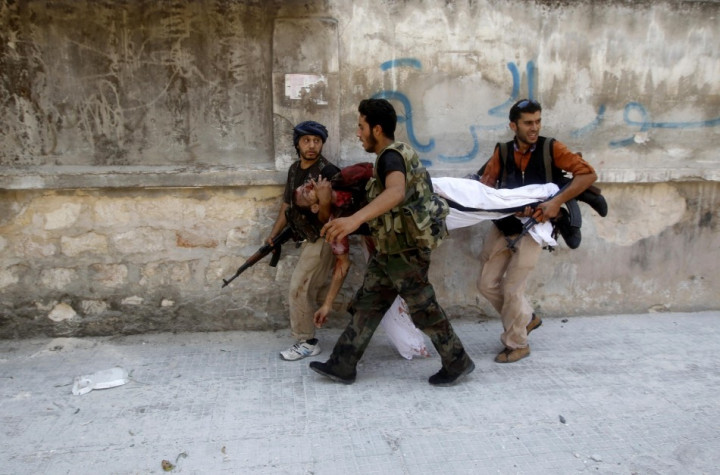 David Cameron and Barack Obama have discussed the threat of Syria's chemical weapons and building support for the opposition groups fighting Bashar al-Assad's forces.
The prime minister also spoke to French President Francois Hollande by phone.
The "appalling situation that continues in Syria" was the major focus of the discussions among the three, they said.
"As with Hollande, the prime minister and Obama discussed how to build on the support already given to the opposition to end the appalling violence in Syria and bring about stability," said Downing Street.
"The use -- or threat -- of chemical weapons was completely unacceptable and would force them to revisit their approach so far.
"The prime minister emphasized the need to work with the U.N. and that more should be done by the international community to channel humanitarian aid through the U.N. appeal."
Russia and China, two key allies of Syria, strongly opposed any unilateral action by Western powers on the pretext of movement or use of chemical weapons by the Assad regime.
Russian Foreign Minister Sergei Lavrov said that any move to intervene in Syria would lead to a violation of international law.
Lavrov made it clear that along with its partner Beijing, Moscow was committed "to the need to strictly adhere to the norms of international law and not to allow their violation."
Chinese state news agency Xinhua accused the West of making the chemical weapons threat an excuse for military intervention.
It termed Obama's earlier remarks on any movement and use of chemical weapons as a "red line" to act militarily as "dangerously irresponsible."
"We have been very clear to the Assad regime, but also to other players on the ground, that a red line for us is we start seeing a whole bunch of chemical weapons moving around or being utilized. That would change my calculus," Obama had said.
Fighting Goes On In Aleppo And Damascus
Meanwhile, fierce fighting continued in Aleppo and parts of Damascus. Helicopter gunships and artillery shelling killed at least 47 people in southern Damascus.
"The whole of Damascus is shaking with the sound of shelling," a woman in Kfar Souseh, one of the districts targeted by Assad forces, told Reuters.
Opposition activists said at least 22 people had been killed in Kfar Souseh and 25 in the nearby district of Nahr Eisha and termed it as the heaviest shelling in this month.
"There are 22 tanks in Kfar Souseh now, and behind each one there are at least 30 soldiers. They are raiding houses and executing men," said an opposition activist in Kfar Souseh.