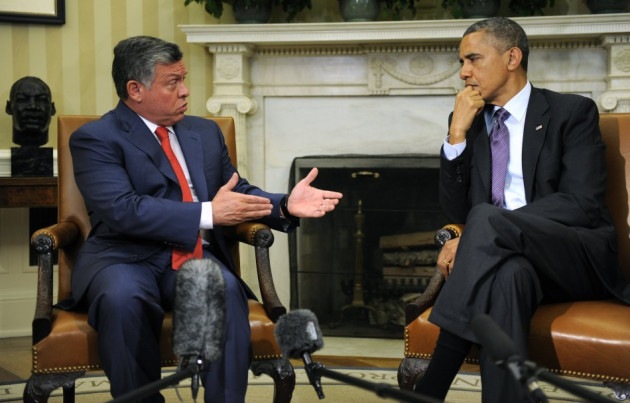 President Barack Obama has said that the alleged use of chemical weapons in Syria will be a "game changer" for Washington.
He, however, emphasised that the US is in no hurry to intervene in Syria as the reports are in a preliminary stage.
Obama stopped short of saying whether Syrian President Bashar al-Assad has crossed "the red line" but he pledged to carry out a "vigorous investigation".
Both the US and the UK governments had earlier hinted at the possibility of Assad's regime using the nerve gas sarin against the Syrian rebels.
Speaking to reporters at the White House as he met King Abdullah II of Jordan, Obama said: "Horrific as it is when mortars are being fired on civilians and people are being indiscriminately killed, to use potential weapons of mass destruction on civilian populations crosses another line with respect to international norms and international law."
He said: "We have varying degrees of confidence about the actual use of [chemical weapons], there's a range of questions about how, when, where these weapons have been used," adding that if the allegations are true, it "is going to be a game changer."
Meanwhile, a UN spokesperson said the international body has already started probing the alleged use of chemical weapons in Syria from outside the strife-torn country, according to Aljazeera.
UN investigators have reportedly started collecting evidence. Assad is yet to officially respond to a request made by UN Secretary-General Ban ki-Moon over allowing UN officials to probe inside the country.
Assad's regime has made it clear that they are not intending to use the deadly weapons against civilians.
"First of all, I want to confirm that statements by the US secretary of state and British government are inconsistent with reality and a barefaced lie. I want to stress one more time Syria would never use it - not only because of its adherence to the international law and rules of leading war, but because of humanitarian and moral issues," Syria's Information Minister Omran Ahed al-Zouabi told Russia Today.
The two-year-long conflict in the country has already claimed 70,000 lives, according to UN estimates, but the actual death toll is believed to be much higher.