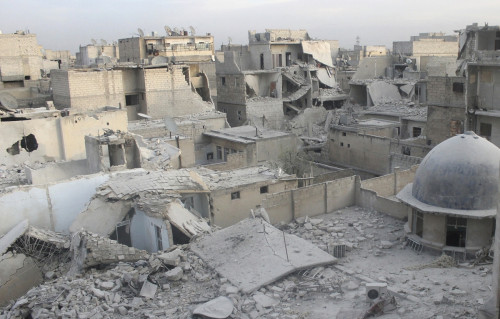 UN Secretary-General Ban Ki-moon invited Iran to attend the Syria peace talks scheduled to start on Wednesday, but the US has said the invitation must be withdrawn unless Iran pledges to support a plan which would see President Bashar al-Assad step down.
The Syrian opposition has also said it will withdraw from the talks unless the invitation to Tehran is cancelled.
Ban said Iran has accepted the invitation for the talks in Montreux, Switzerland, adding that Tehran will play a "positive and constructive role".
"Foreign Minister Zarif and I agree that the goal of the negotiations is to establish, by mutual consent, a transitional governing body with full executive powers," the UN chief said.
"As I have said repeatedly, I believe strongly that Iran needs to be part of the solution to the Syrian crisis."
This week's talks will discuss the proposal to set up a transitional governing body with the mutual consent of the regime and the opposition, which has been calling for nothing less than the removal of Assad from power.
This proposal was first mooted at the Geneva peace conference in June 2012, but neither side had approved that plan then.
The three-year Syrian conflict has seen the killing of nearly 130,000 people and the displacement of two million more.
The peace talks were in jeopardy just 48 hours after the opposition coalition agreed to it, with developments on both sides showing the stalemate over Assad's continuance in power was set to linger.
Assad has insisted that he had intention of stepping down and that his departure will not be discussed in the Geneva II conference, the Guardian reported.
"If we wanted to surrender we would have surrendered from the start ... This issue is not under discussion. Only the Syrian people can decide who should take part in elections," Assad told visiting Russian MPs, the Interfax news agency reported.
Meanwhile, the Syrian collation also said it was surprised at the UN invitation for Tehran. "It is illogical and we cannot in any way accept it," a senior coalition figure told al-Jazeera TV.
"The Syrian Coalition announces that they will withdraw their attendance in Geneva II unless Ban Ki-moon retracts Iran's invitation," the coalition also said in a Twitter post.
The US had always linked Iran's participation in talks to its acceptance of the June 2012 resolution that calls for Assad to step down.
"If Iran does not fully and publicly accept the Geneva communiqué, the invitation must be rescinded," State Department spokeswoman Jen Psaki said following Ban's move.