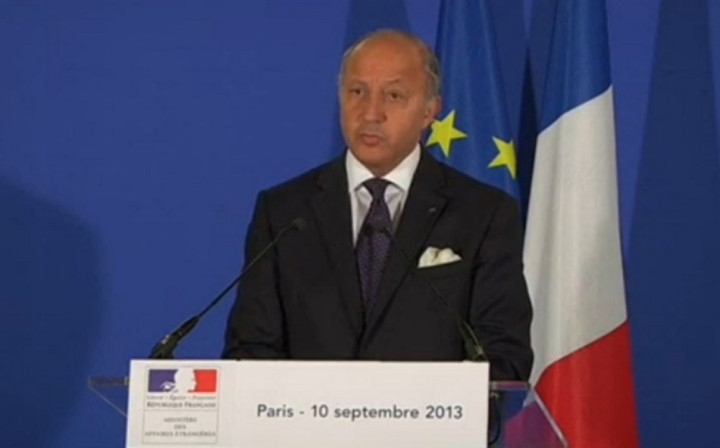 Russia's diplomatic attempt to avert a Western strike in Syria by placing the regime's chemical weapons stockpiles under international control has gained momentum, after the fiercest advocates for military intervention opened doors for it.
French foreign minister Laurent Fabius said Paris will float a resolution in the UN Security Council to make Syria fully disclose, give up and destroy its chemical weapons.
Fabius said the UN's top body is to start working on the resolution immediately, and warned Damascus will face "extremely serious" consequences if its conditions are flouted.
France said the resolution is to be drafted under Chapter 7 of the UN charter, which allows the use of force, signalling that it envisages a UN-led military intervention in case of Syrian non-compliance.
Earlier, US president Barack Obama admitted Russia's plan could be a big step forward.
"This could potentially be a significant breakthrough," Obama told NBC News. "But we have to be sceptical because this is not how we've seen them operate over the last couple of years."
Obama said that the launch of a punitive strike against Syria will be put on hold if the regime agrees to the scheme.
'Workable, precise and concrete plan'
Russia and China, two of the five veto-wielding permanent members of the Security Council have so far strongly opposed any measures against the regime, let alone the possibility of a military operation.
Russia said it is working on its own proposal. Foreign minister Sergey Lavrov said the Kremlin is negotiating with Damascus to prepare a detailed plan of action, which will be presented shortly.
"We are currently working on preparing a workable, precise and concrete plan and for this there are literally right now, in these minutes, contacts with the Syrian side," Lavrov said.
Obama said he first discussed the issue with his Russian counterpart Vladimir Putin at the sidelines of the G20 summit in St Petersburg.
However the idea was first made public in an off-hand comment by secretary of State John Kerry, which was seized by Moscow.
Kerry told a press conference in Britain that the only way the Syrian regime of Basahr al-Assad could avoid a US strike was to give up every single bit of its chemical arsenal within a week.
US officials shortly backtracked, saying that Kerry was making a "rhetorical argument" rather than a serious offer, but Russia took it and put it on the table during talks with Damascus.
Obama is expected to make the case for intervention in a televised address to the nation.