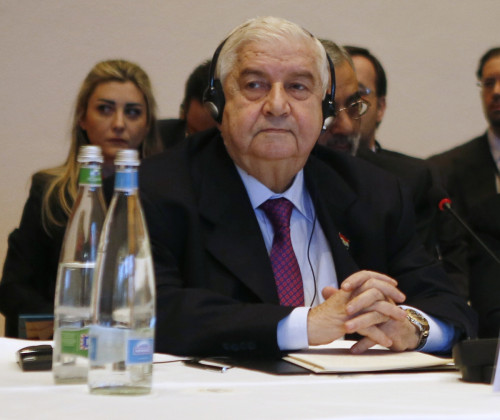 A spat has erupted between Syrian foreign minister Walid al-Moualem and UN chief Ban Ki-moon at the opening address at the start of the peace talks in Switzerland resort of Montreux.
A defiant and belligerent Moualem accused the West of supporting terrorism in his wartorn country and urged it to stop "pouring arms" into Syria.
Moualem repeatedly ignored requests to cut short his speech by Ban, who had suggested a limit of seven minutes per address. After 20 minutes, the UN secretary-general told Moualem "to wrap up".
But the foreign minister replied: "Mr Secretary-General, you spoke for 25 minutes."
Ban agreed to give Moualem one or two minutes to conclude his speech. But Assad's aide said: "I can't promise you. You live in New York, I live in Syria. I have the right to give Syrian version here in this forum."
The UN chief also asked Moualem to refrain from making accusations against participants at the conference.
The foreign secretary hit back: "I promise you to be constructive. Another 20 minutes no?"
Then he said. "I will finish one sentence. Syria always keeps its promise."
The US blasted the minister for his "inflammatory" rhetoric at the peace talks.
In his opening remarks, Kerry said that Syria's president Bashar al-Assad should have no place in a transitional government.
"We see only one option: negotiating a transition government born by mutual consent," Kerry said.
"That means that Bashar al-Assad will not be part of that transition government. There is no way, no way possible, that a man who has led a brutal response to his own people can regain legitimacy to govern."