Syria: Isis Jihadists Hanging Victims on Public Crucifixes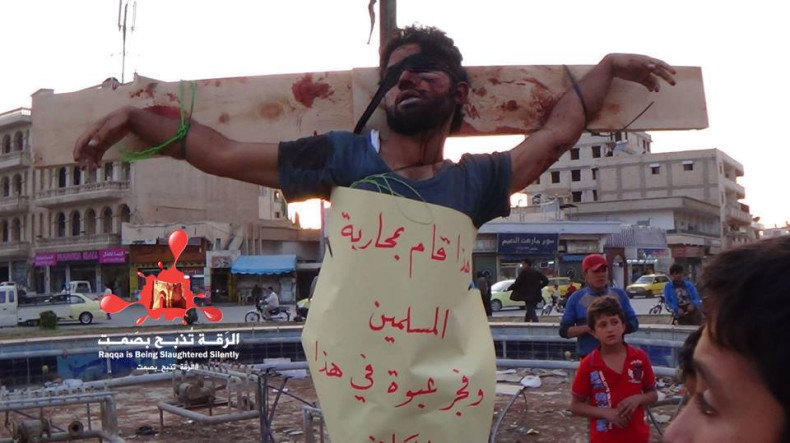 The Islamic group which even al-Qaida has disowned for its brutality has been accused of hanging its executed victims from crosses in public squares in northern Syria.
The Islamic State of Iraq and al-Sham (Isis) has taken control of the northern Syrian town of Raqqa where photographs show onlookers watching the hanging of victims from the cross in a public area, with Arabic terminology draped across their bodies.
Abu Ibrahim Alrquaoui, a co-founder of the Raqqa is Being Slaughtered Silently group, told Fox News that the victims are themselves Muslim rebels who fought against the Assad regime.
"It's very dangerous. They threaten us directly and want to kill us," said Alrquaoui.
"They want to stay in control. Everything they do is to scare people. That's why they kill people publicly," he continued.
The photographs could not be immediately verified and the means of execution, if true, could not be confirmed.
Isis rebels are infamous for their brutality, beheading victims and parading the severed heads to both crowds and video cameras.
The group is made of mainly foreign jihadists and is fighting to create an Islamic caliphate in the old Mesopotamia region which includes both Iraq and Syria.
According to the Syrian Observatory for Human Rights, rebel-on-rebel violence has killed at least 2,300 people this year alone.
After disowning the group in February, al-Qaida's senior leadership said that Isis is "not an affiliate with the al-Qaida group and has no organisational relation with it."
Isis has defiantly disobeyed al-Qaida orders, following a path of greater brutality in the Syrian civil war, in conjunction with the group's draconian interpretation of Islamic law.
"I have to choose between the rule of God and the rule of [Ayman al] Zawahiri (leader of al-Qaida), and I choose the rule of God," said Isis leader Abu Bakr al-Baghdadi in a leaked audio recording.