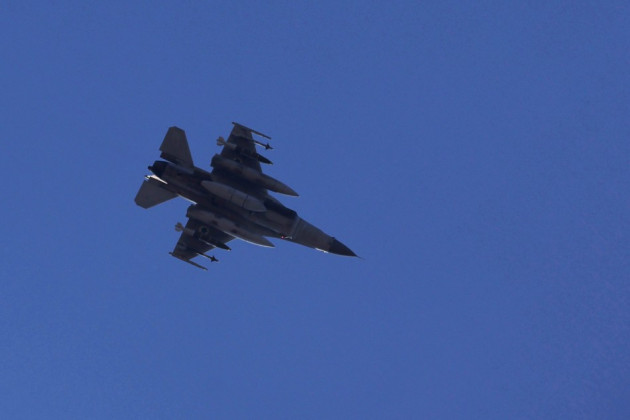 President Bashar al-Assad's forces in Syria are reported to have shot down an Israeli jet during an aerial bombardment in the capital Damascus.
Hezbollah-backed Manar television claims the Israeli warplane was attacked during a raid by Israeli jets on Syria's defence facilities.
Syria's state television admitted Israeli rockets struck targets on the outskirts of Damascus.
Huge explosions were heard in the city neighbourhoods, where the Jamraya research facility is located. The complex is believed to have been used for chemical weapons research and had also come under Israeli attack on earlier occasions.
"Initial information indicates that the explosions at the scientific research centre in Jamraya near Damascus were caused by Israeli missiles," said the official SANA news outlet.
"The new Israeli attack is an attempt to raise the morale of the terrorist groups which have been reeling from strikes by our noble army," said Syrian state television.
The Britain-based Syrian Observatory for Human Rights said eyewitnesses in the region reported seeing jets flying at the time of the blasts.
Pictures have been uploaded on the internet by activists showing a series of explosions. Washington has so far not commented on the attacks.
"There was a large explosion. We first felt shakes like an earthquake and 30 seconds later heard gunfire," an unnamed Damascus resident told the Lebanon-based Daily Star.
Another resident said: "There was electricity cut then a large boom. The door of my balcony opened from the after effect."
Israel rarely issues an official response to such raids. Earlier, Israeli warplanes flew over Lebanon to bomb targets in Syria. Israel confirmed that it had carried out the airstrike targeting Hezbollah-bound missile shipments.
Israel is worried the powerful chemical weapon stockpile in Syria could reach the hands of Lebanon-based Islamic military group Hezbollah.
"The Israelis, justifiably, have to guard against the transfer of advanced weaponry to terrorist organizations like Hezbollah," President Barack Obama said in an interview to the Spanish-language TV station Telemundo, ahead of the alleged attack.