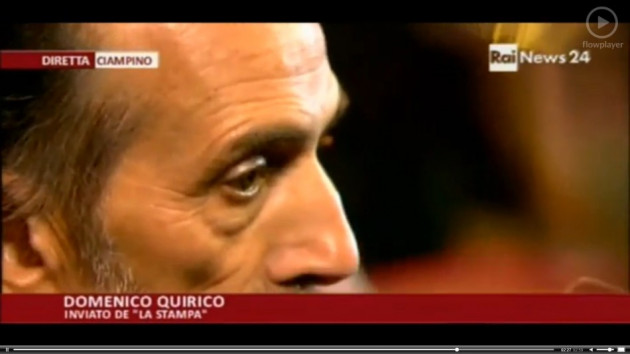 An Italian war reporter held hostage for five months in Syria has been freed by his captors - and told reporters he felt like he had been "living on Mars" during his ordeal.
Domenico Quirico, who was abducted alongside Belgian writer Pierre Piccinin in April, said he was treated badly and the Syrian revolution has "turned into something very dangerous" since he began covering it.
Quirico, 62, was speaking to reporters at an airport in Rome, where he and Piccinin were flown after their release.
"I had tried to tell the story of the Syrian revolution and its sufferings," Quirico, looking exhausted and weary, told reporters on the tarmac of Ciampino airport.
"It could be that this revolution had betrayed me in some way and perhaps it's not the same revolution I met two years ago in Aleppo, which was a secular and democratic one. It has turned into something else, something very dangerous and complicated.
"It's like I had been living five months on Mars and I discovered that Martians are very dangerous and wicked."
No details have been released on who was holding Quirico, or how he was released.
Italy's prime minister Enrico Letta said "hope had never faded" for the return of Quirico, a renowned war correspondent who has covered conflicts in Mali, Somalia and Libya in recent years.
La Stampa's editor-in-chief Mario Calabresi wrote on Twitter: "We have been waiting for this great news since the day he disappeared five months ago, I just had a moving phone call with [foreign affairs minister] Emma Bonino.
"Domenico is finally safe home - but we can't forget the Italian Jesuit priest Paolo Oglio who's still prisoner in Syria".
Calabresi was referring to Italian Jesuit priest Paolo Dall'Oglio, a well-known figure in Syria who activists said had gone to meet with al-Qaida-linked militants. The priest went missing in July