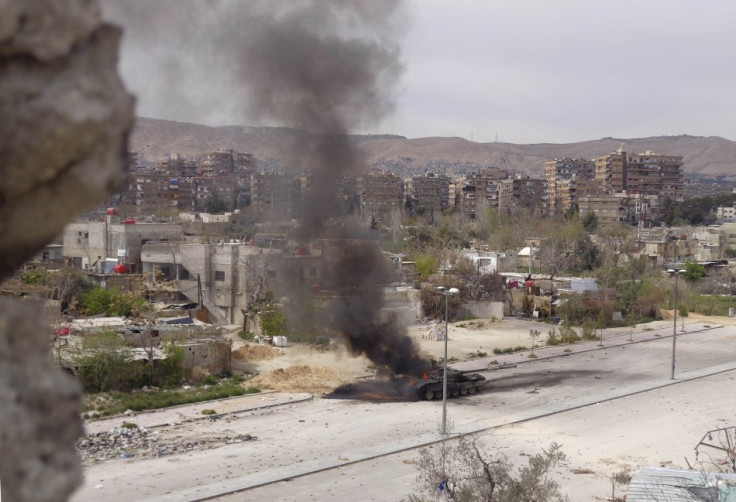 A Syrian jet has fired a missile into Arsal, a town bordering Lebanon, damaging a house.
No casualties have been reported so far, but the incident could heighten tensions between Syria and Lebanon.
Local reports suggest that a helicopter belonging to the Syrian army was also seen swirling in the vicinity.
People in Arsal openly criticise Syrian President Bashar al-Assad's regime. The target of the attack is not clear but the firing is believed to be related to Assad's plan to wipe out the rebels who are seeking to overthrow him.
Hours ahead of the attack, Lebanese gunmen attacked a convoy travelling to Syria, injuring one person.
Although Lebanon has officially distanced itself from the two-year Syrian conflict, many Lebanese officials are concerned that their country is being dragged into the crisis.
Pro-Assad forces in Syria have vowed to carry out attacks on rebels even if they are holed up in Lebanese territory. Lebanon calls the attacks violations of its sovereignty.
In mid-March, Syria launched a similar attack on Lebanon sparking international condemnation.
A number of villages, including al-Qasr and Hermel, have come under attack during cross-border bombardment. Earlier attacks were reported to be responses to increasing cross-border incursions from Lebanese militants to assist the anti-Assad rebels.
Assad's regime has previously warned Lebanon about the incursions, saying Syrian forces were not attacking "concentrations of armed gangs inside Lebanese territory in order to prevent them from crossing into Syrian territory. But this will not last indefinitely."
Reacting to the attack, the US said: "This constitutes a significant escalation in the violations of Lebanese sovereignty that the Syrian regime has been guilty of. These kinds of violations of sovereignty are absolutely unacceptable."